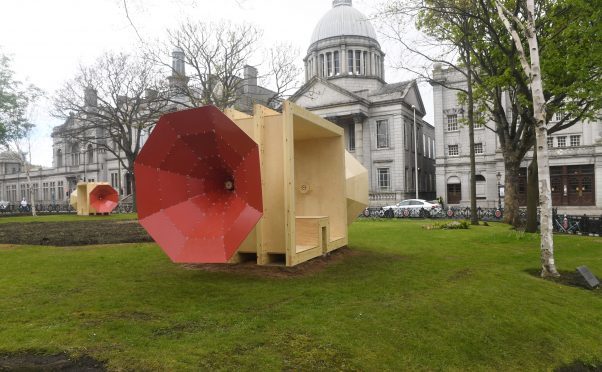 School children have been working to create artworks for a festival – and your Evening Express.
Youngsters from Quarryhill Primary school and Bridge of Don Academy in Aberdeen created today's colourful Evening Express masthead – as part of Look Again 2017 – in workshops with artist Jason Nelson.
They also worked to created a spin-off piece for his work which is on show in Union Terrace Gardens' pocket park.
Jason said: "A lot of the work I do is participatory, so it was good to work with the pupils to make replica works in the library."
More than 100 pupils ranging from P5 to S1 joined forces on the re-design project during sessions, which were run in collaboration with Creative Learning at Aberdeen City Council.
The group of pupils were asked to come up with a drawing which represents their city and all the things they love about it.
Each individual element of the design – which includes seagulls, the Dons and several famous granite buildings – was then brought together by Jason to form the final new-look masthead.

As part of this project, the youngsters from both schools were asked to try to show what it is like being children and young people in Aberdeen now, from their day to day experiences through to future aspirations.
The resulting images were also drawn directly on to sections of cardboard to build large scale sculptural forms shapes like trumpets.
This was to reflect a new piece of work by Nelson for the festival called The Listener, which was constructed in the Aberdeen Journals building on Lang Stracht.
Giant cardboard sculptures give a visual and collective voice to the identity of these young people at this particular moment in city.
The Listener: Broadcast, which was created by the pupils, is being showcased at Aberdeen's Central Library.
The festival started on Thursday and was to finish today.