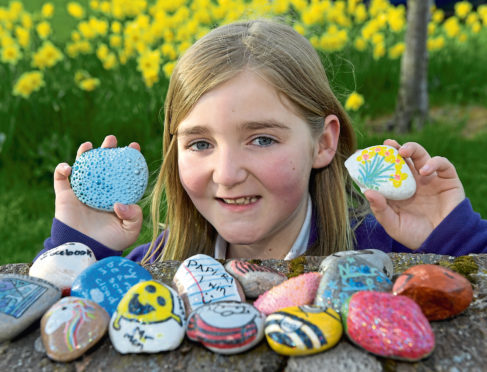 A project by an Aberdeen schoolgirl, which sees painted rocks hidden across the north-east's green spaces for others to find will be involved in this year's Britain in Bloom entry.
Aberdeen Rocks was created by Glashieburn School pupil Alana Christie.
Aberdeen schoolgirl hopes idea will encourage families to visit north-east parks and beauty spots
The 10-year-old has been helped out on the project by mum Morag, 41, and little brother Jay, 7.
Morag said: "When the kids went to the launch at Aberdeen Play Forum, Stephen Shaw from Aberdeen City Council was there and he liked the idea.
"He actually got in contact with us and asked if we wanted to do a collaboration and we said yes.
"They are looking for kids to be involved. We are now officially on the agenda for the Britain in Bloom judges. There's going to be rocks hidden when the judges are up.
"Alana will be telling them what Aberdeen Rocks is all about, and hopefully they will maybe find a rock."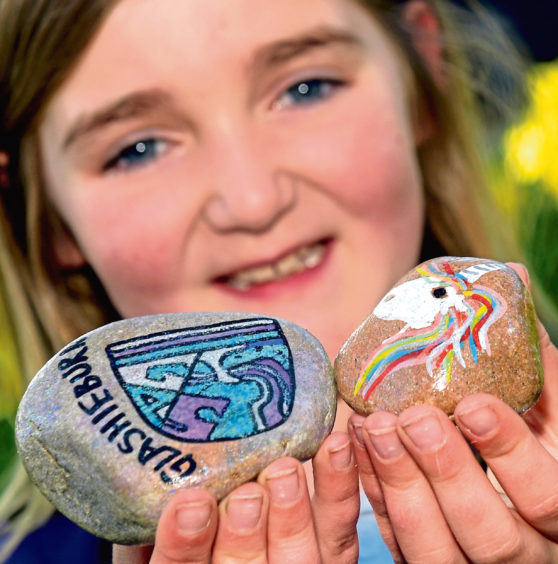 The project helps to brighten up the city's green spaces and now hopes to involve city schools.
Morag said: "There's going to be a big competition for the schools, sets of coloured rocks will be hidden and children will have to try and find them.
"Once the schools have found a set they will win a prize. There's also going to be a golden rock, so any family who finds it will win a big prize."
It is hoped that the next stage of Aberdeen Rocks will involve local businesses, who could sponsor a rock for a prize.
There has also been some discussion of potentially involving care homes.
On Facebook the Aberdeen Rocks page now has more than 1,000 followers.
Morag added: "Some of the rocks have travelled a few places now.
"We are really hoping we can take it further, to care homes and places like that. Alana's so excited. She's just absolutely delighted, it's really taken off. It's just getting the word out about it so as many people can get involved as possible."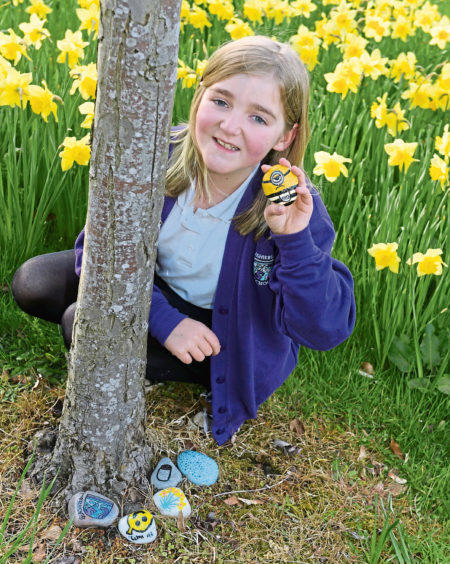 Convener of operational delivery committee at Aberdeen City Council, John Wheeler said: "We are very excited about Aberdeen Rocks agreeing to be involved in our campaign this year.
"They will be producing special In Bloom rocks to mark the occasion."
Aberdeen is going to be representing the north-east in this year's Britain in Bloom.
It was one of five finalists in last year's Beautiful Scotland competition who were invited to take part in the Royal Horticultural Society's (RHS) Britain-wide competition, in recognition of the efforts the local authority made to deliver environmental improvements in the local area.
Juliette Camburn, community projects officer at Keep Scotland Beautiful, said: "We are delighted that five Scottish groups have reached the 2018 RHS Britain in Bloom finals.
"It is another opportunity to celebrate the outstanding achievements of groups across Scotland who all make a significant contribution in helping to improve local environmental quality.
"In partnership with RHS, Keep Scotland Beautiful has supported the work of these groups to bring forward a range of environmental improvements and it is great to see them compete at a UK level. We wish the Scottish finalists the very best of luck."
Britain in Bloom is now in its 54th year, and there are 12 overall categories and 76 finalists, with Aberdeen competing in the city category.
Aberdeen has historically done well at the awards and in 2017 "Growing Smarter, Granite City Aberdeen" took home the city trophy and the Royal Caledonian horticultural society discretionary award.
In addition to this, Powis Gardeners were awarded the residential community trophy and Aberdeen Inspired was given a discretionary award for VisitScotland award for tourism.
A number of the groups that entered last year were also the recipients of a gold, silver gilt or silver medal.
The winners will be announced at a ceremony in Belfast on October 19.
"Alana rocks with stones on a roll", Pages 12&13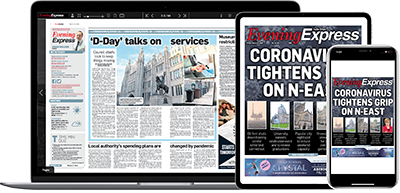 Help support quality local journalism … become a digital subscriber to the Evening Express
For as little as £5.99 a month you can access all of our content, including Premium articles.
Subscribe