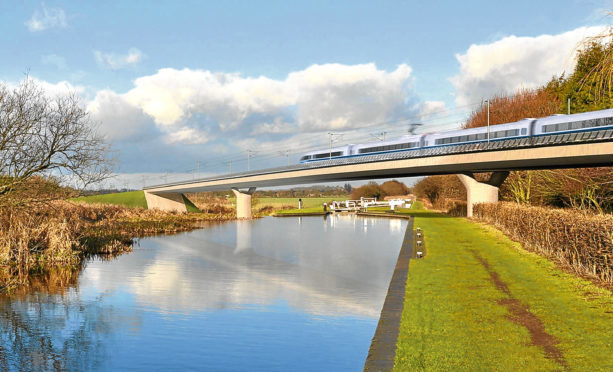 Bosses of a £55 billion rail project have apologised after a blunder meant residents in Aberdeen were warned to expect noisy work – taking place 500 miles away.
Several hundred personalised envelopes were sent to people in Garthdee and Ferryhill about a high-speed rail scheme and work due to take place in Calvert, Buckinghamshire.
The UK Government is spending the cash on the project to increase journey times between London, Birmingham, the East Midlands, Leeds and Manchester.
Before the work can begin, contractors have to check there is no hidden treasure where the rail lines will go.
They are organising an archeological dig on land near the village of Calvert in Buckingham and wanted to let neighbours know about the noisy machinery they will be using.
It is understood that more than a dozen Aberdeen residents called an HS2 helpline yesterday to ask why they had been sent details of a rail project happening in southern England.
An HS2 spokesman put the gaffe down to an administrative error and called it "unfortunate".
Ferryhill councillor Alan Donnelly said: "I suppose at least people living in Ferryhill have had the opportunity to find out about the exciting rail projects happening elsewhere in the UK – I'm sure many of them would have found it fascinating.
"It is a big mistake and, as long as the contractor is picking up the cost rather than the taxpayer, I don't see there being much of a negative impact."
An HS2 spokesman said: "Due to an administrative error, some residents in Ferryhill, Aberdeen have wrongly received information about HS2.
"This unfortunate technical error happened when generating postcodes for the distribution of these notifications. We are reviewing the processes around this system to ensure this doesn't happen again and we apologise for any confusion and inconvenience caused."
Councillor Catriona Mackenzie said: "This is bizarre in the extreme, and a real inconvenience for anyone in Ferryhill who has had to contact this Birmingham-based company to find out what on earth is going on.
"Some folk will roll their eyes and laugh this off but there's actually quite a serious issue here in that some folk, particularly elderly people, might be caused considerable anxiety thinking major works are about to happen."