Residents in a city community are being asked to give their views on a plan which could see Aberdeen get its third Cruyff Court.
One possible location where the facility could be built if the proposal gets the go-ahead, is on vacant green space near Tillydrone Police Station, beside Formartine Road and Coningham Gardens.
Cruyff Court Denis Law, which was the result of a collaboration between the council, the Denis Law Legacy Trust and the Johan Cruyff Foundation, became the first facility of its type in Scotland when it was opened at the city's Catherine Street in 2017.
The hi-tech, all-weather playing areas are free to access and are designed to serve families in the community.
There are now more than 250 Cruyff Courts in more than 20 countries worldwide.
Tillydrone community councillor Lynne Digby said: "Overall, I think the community generally agrees with the proposals.
"However, when I read up on Cruyff Courts' own website, I noticed that the infill of recycled rubber tyres and plastics which are turned into granules need tonnes of infill replaced every year.
"It can get into water systems in different ways, including when it sticks to clothes which are then put in the washing machine.
"I would like to see Aberdeen City Council do all they can to try and solve these issues."
---
---
But it is understood special drains could be installed to collect the plastic particles that become detached through being washed through the pitch by rain.
This will prevent them from reaching the water courses and any environmental damage that may occur as a result. Local councillor Alex McLellan said: "There is no doubt that Cruyff Courts are fantastic free facilities and I'm sure such a facility would be welcomed by people of all ages in Tillydrone."
An Aberdeen City Council spokesman said: "We are currently consulting with the Tillydrone community on new recreational facilities, with a new Cruyff Court being a potential option.
"We are at an early stage, however, and we will listen to all views before arriving at an informed decision on how best to invest in enhancing facilities to benefit the local community."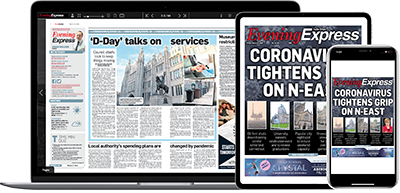 Help support quality local journalism … become a digital subscriber to the Evening Express
For as little as £5.99 a month you can access all of our content, including Premium articles.
Subscribe