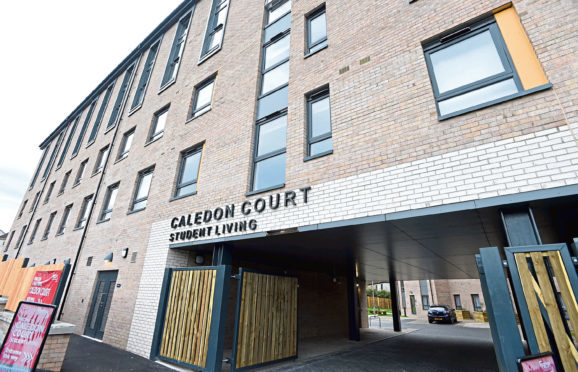 Residents of an Aberdeen community say they have been left at "breaking point" with noise coming from a nearby student block repeatedly interrupting their sleep.
Those living near the new Caledon Court student housing in Garthdee say they have been subjected to alleged screaming and singing at unsociable hours.
The block of flats is on the former site of the Caledon bar on Garthdee Road and residents claim the noise coming from the flats has been a blight on the community since students moved in last month.
For Janine Cortes, a Garthdee resident of more than 30 years, said the situation has become intolerable. She said: "The noise is absolutely horrendous – the students scream, shout and sing from 11pm until anywhere up to 4am every night. I am sick and tired of it.
"I have a 15-year-old son living with me and this is an important school year for him, but sometimes he can't sleep either.
"I understand they are young people and they are allowed to have fun, but what about the rights of the neighbours?"
---
---
A fellow resident of Garthdee, who did not wish to be named, said: "It is ridiculous, especially for those who have to work the next morning. I don't know what we can do about it. The worry is that this will happen every year as more students come in each September."
Many residents felt the courtyard of Caledon Court, which acts as the designated smoking area, caused the revellers' shouts and screams to echo and travel across the street.
Janine found further frustration when she was told to report her complaints to the accommodation wardens – who are students. She said: "The warden explained that it was in fact other students, in their third and fourth years, who carry out the role through the night. Why haven't Fresh Student Living put proper security in the building to deal with this?
"The police told me to call every time there is an incident, so they can make a log."
However, first-year students and Caledon Court residents Hashim Berrwin and Duncan Despasquale did not believe there was a noise problem.
Duncan, 18, said: "This is known as one of the quieter blocks."
Friend Hashim agreed, adding: "There are parties only once or twice a week. I don't think it is particularly noisy."
Fresh Property Group, which owns Caledon Court, did not comment.
Councillor Ian Yuill, who represents the Airyhall, Broomhill and Garthdee ward, said: "Everyone is young once but their behaviour is affecting the lives of their neighbours.
"I have reported the issue to council officers."
An Aberdeen City Council spokesperson said: "We are aware of the reports of antisocial behaviour and these have been dealt with in line with procedures."