Police today said increased security and searches would help people in Aberdeen feel "reassured".
It comes as Police Scotland launched Counter Terrorism Awareness Week at Union Square.
The shopping centre announced last week that it would be conducting random bag checks on people visiting the centre.
Launching the awareness operation, around a dozen officers were at Union Square talking to members of the public and handing out leaflets promoting counter-terrorism activity.
Officers stressed there was no intelligence to suggest an attack in Aberdeen or Scotland could happen imminently – but asked the public to remain vigilant.
The national threat level was raised to critical following the suicide bombing in Manchester where 22 people died, but has since been lowered to severe.
British authorities are on high alert after terrorists launched three deadly attacks in Westminster, Manchester and London Bridge.
The attacks sparked fears the UK was in the grip of a wave of copycat strikes.
On May 22, 22 people died in the Manchester suicide bombing and dozens were injured.
And earlier this month eight people died and 10 others left in a critical condition after three men attacked revellers around London Bridge.
Assistant Chief Constable Steve Johnson, who was at the launch at Union Square, said members of the public should contact them if they see anything suspicious.
He said: "I want to be very clear, the threat to Scotland and the UK sits at severe, which means an attack is highly likely.
"However, in regards to the intelligence for Scotland there is no specific intelligence that would suggest that there is a threat here in Aberdeen or anywhere else in Scotland.
"The purpose of this week-long initiative is not to alarm the public, but to provide them with all the necessary information they require to identify suspicious activity and, more importantly, to keep themselves safe and secure.
"The tragic events in Manchester and London have undoubtedly left our communities shaken and concerned and our activities taking place throughout Counter Terrorism Awareness Week are aimed at offering reassurance to the public by demonstrating the range of capabilities at our disposal to both deter, and respond to, terrorism-related incidents."
In total, more than 200 Police Scotland officers will be utilised throughout the country during this week, with staff from a variety of partner agencies assisting.
Bosses at Union Square said the decision to carry out bag searches was taken due to a wider threat and not a specific one relating to the centre. Mr Johnson added having bag checks sends a message to a potential attacker.
He said: "I go to sporting events and I'm used to being searched before going in and my personal view is that I feel reassured by that.
"A quick spot check in someone's bag to see if there was anything in it, I don't think much members of the public would have any problems about it. I think they would feel reassured.
"It is very much the policy of the company here, but I personally don't see a problem with that. It is about how it is done and not the fact that it is being conducted.
"It is happening across Europe and the world where people are in crowded places and it doesn't take long.
"It takes a couple of seconds for someone to open their bag for it to be checked and then they are on their way.
"I think that sends a message out to a potential attacker that you are likely to be checked at a venue like this.
"It also sends a message out to the community that it's not just the police out there looking to keep us safe.
"It is the security and staff in these premises that are working with us.
"It helps for all sorts of things, like low level crime offences, serious assaults where someone might be carrying a weapon and all the way up to terrorism incidents.
"The whole aim here is to prevent this happening in the first place."
Counter Terrorism Awareness Week runs until Sunday.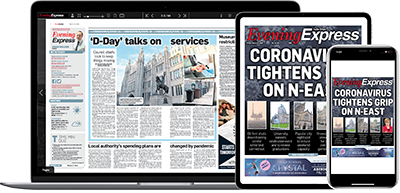 Help support quality local journalism … become a digital subscriber to the Evening Express
For as little as £5.99 a month you can access all of our content, including Premium articles.
Subscribe