Give cyclists as much space as you would a car when you pass, Aberdeen police have told drivers.
Officers have just launched a campaign urging drivers to allow a safe overtaking distance from people on bikes and they are making their point with a clever gadget – a "safe distance" mat.
In the coming weeks, police will be out and about across the North-east talking to drivers as part of Operation Close Pass, which was launched at Duthie Park, Aberdeen, yesterday.
Officers on bikes will be keeping their eyes peeled for drivers who get too close when overtaking – and then pulling them up to talk to them.
Drivers will then be shown a special mat, which shows the correct distance to allow as vehicles pass push bikes.
Police said that, while there have not been any specific incidents of vehicles hitting bicycles, they are promoting the message now as more people are expected to use their bikes over the warmer months.
"With the better weather and longer days, we expect to see an increase in the number of pedal cyclists using the road network across the North-east," said Road Policing Sergeant Peter Henderson.
He added: "It is therefore imperative all road users, including cyclists, are aware of their vulnerability irrespective what mode of transport they are using.
"Cyclists are considered vulnerable road users, so it is important drivers recognise the importance of giving them sufficient space on the roads. Passing cyclists too closely puts all road users in danger.
"You should allow at least as much room as you would when overtaking a car when passing a person on a bicycle, giving consideration to the maximum speed limit and time and distance available to you."
Police have said they will educate drivers – but will prosecute people in more severe cases of irresponsible driving.
Road Policing Inspector Neil Morrison added: "Everyone has a responsibility to ensure their own safety and the safety of others and by exercising patience and courtesy we can all make the roads a safer place."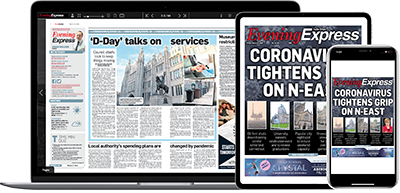 Help support quality local journalism … become a digital subscriber to the Evening Express
For as little as £5.99 a month you can access all of our content, including Premium articles.
Subscribe