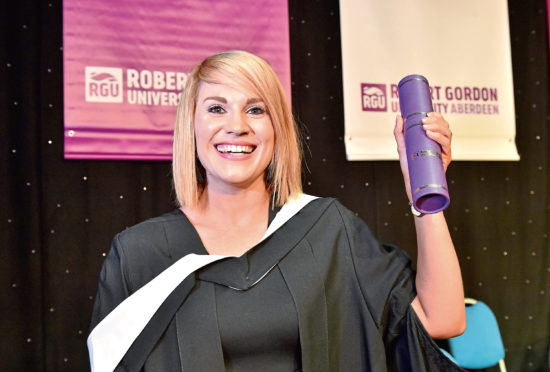 After seven years in the field, Amy Duthie went back to school to further her love for nursing.
And now the Aberdeen-based mum is celebrating earning her postgraduate in Advancing Nursing Practice from Robert Gordon University (RGU).
The PgDip is the second of three potential qualifications.
After working as a nurse for seven years, following her undergraduate training at RGU, Amy chose to return to the university to fulfil her ambitions to specialise in her profession.
The 31-year-old said: "Since starting my nursing training, I always wanted to go down the district nursing route and started moving towards that by working as a community nurse.
"When I heard the NHS was offering partial funding for this course, I jumped at the opportunity – I had a very good experience the first time round at RGU and couldn't wait to develop my nursing skills with advanced practice.
"As cliched as it sounds, I originally chose nursing because I have always wanted to help people and I really believe this is more of a vocation than a job.
"The fact that RGU's Advancing Nursing Practice programme would give me further development and make me better at providing care just made it a natural progression."
After completing her postgraduate, Amy is "absolutely delighted" to have met her goal and is now working as a district nurse.
"There's no rest for the wicked though – I'm actually already back at RGU studying towards getting my Non-Medical Prescribing qualification," she added.
The course prepares non-medical health professionals to prescribe within the legislation relevant to their profession.
RGU's School of Nursing and Midwifery offers a number of postgraduate programmes and short courses for practitioners.
While her professional development will continue, Amy's graduation marks a significant achievement for her and one of which she is very proud.
---
---
Amy said: "I'm immensely proud of myself for making it through the past two years, as there were a few times where I didn't think I would be able to achieve what I'd set out to do.
"As a single mother to a four-year-old, it took a fair amount of juggling – with work, parenting, studying and everything else life throws at you in between – but I pushed through and got there.
"I am very grateful to my family for their support throughout – they were with me every step of the way.
"I think I'm an advert for 'If you set your mind to it, you can achieve anything' – or maybe I'm just stubborn."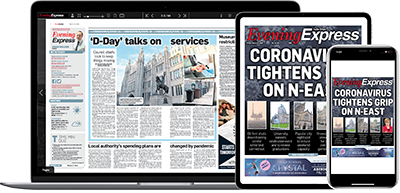 Help support quality local journalism … become a digital subscriber to the Evening Express
For as little as £5.99 a month you can access all of our content, including Premium articles.
Subscribe