Aberdeen musician creates music video of 'eerie' vacant city centre
The "eerie" empty streets of the city have inspired an Aberdeen musician.
Colin Black, who is a music teacher at various primary schools across the city, has photographed the desolate city centre during his daily-allowed exercise.
The Rosemount resident has pieced together a music video of his best pictures while he strums his rendition of Ghost Town by The Specials.
He said: "Obviously, the only time we can get outside right now is for our daily walk.
"I took some photos when I went round town and there's this eerie atmosphere.
"It made me think about a ghost town and the song called Ghost Town."
Mr Black, who also plays in the ska band AKA Ska, said he's coping with the uncertainty by "staying creative" and "playing music".
He added that being a musician in the current climate is "very difficult" because of the number of event cancellations.
"I play gigs all year round and all of my friends are musicians," he said.
"I'm still doing some teaching, so it's nice to stay in touch with people, but so many musicians across the country are faced with no work.
"It doesn't leave us much of a choice but to get creative and create music."
Click here to hear more of Mr Black's music and see more of his photography.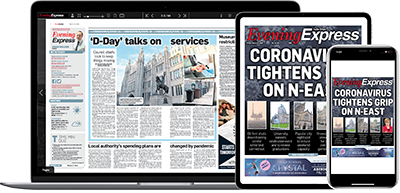 Help support quality local journalism … become a digital subscriber to the Evening Express
For as little as £5.99 a month you can access all of our content, including Premium articles.
Subscribe