"He fought his whole life from the day he took his first breath."
This is how Aberdeen mum-of-two Lisa Stars today paid tribute to her beloved and remarkable baby son Jaxon, who lost his fight for life.
The 13-month-old was born with a life-limiting condition caused by a rare genetic mutation, with just seven reported cases worldwide.
As a result, Jaxon suffered from a rare disorder called pontocerebellar hypoplasia, which affects the development of the brain. Lisa, 37, who is from Kincorth, said: "He was born with a serious genetic condition.
"It wasn't picked up until he was born and he had to spend the first four months of his life in hospital.
"He was in neo-natal for three months and then spent a further month at the children's hospital.
"Jaxon was missing most of his cerebellum (part of the brain) but the biggest problem was his Ohtahara Syndrome."
The condition is a neurological disorder characterised by epileptic seizures.
Jaxon was a "fighter" according to Lisa, who is also mum to five-year-old son Antony.
Lisa, who used to work as a lab technician until giving up work to care for Jaxon full-time, said: "We nearly lost him in November as he picked up a common cold which became RSV (respiratory syncytial virus).
"But he managed to fight himself through that.
"He fought his whole life from the day he took his first breath."
Jaxon loved to have a cuddle and looking at his bubble lamp, said Lisa.
She added: "Because of his condition he didn't have many responses and his medication kept him sleepy.
"He smiled and could give you eye contact but couldn't move a lot of his body.
"He did know when he was having a cuddle.
"It has been hard but we had our good times.
"We made lots of memories and we did get a year with him.
"That's thanks to Royal Aberdeen Children's Hospital (RACH), Rachel House and Children's Hospices across Scotland (CHAS)."
For more than 20 years CHAS has been offering full-family support for babies, children and young people with life-shortening conditions.
Rachel House, at Kinross, provides a "home from home" for families, offering them family respite and support.
Lisa said: "They provided us with so much support and help, and have given us things to make memories.
"We went on weekends to Rachel House and CHAS helped us with collecting memorabilia including handprints and footprints.
"We also went away on holiday through Charlie House (a children's charity)."
The family were also over the moon to get Jaxon home for Christmas last year.
He was born on December 23, 2016, but had to spend his very first days in hospital.
Lisa said: "It was absolutely amazing to have him home for this one. Antony was very close to him and loved him more than anything."
Jackson passed away on Friday and now his family and loved ones are calling for anyone who may be available to join a convoy of cars and motorbikes to his funeral on Monday, to "make a noise" in his memory.
He will be making his final journey from the family's home on Faulds Gate, Kincorth, to Aberdeen Funeral Directors at Causewayend at 9.45am.
He will later be taken to Aberdeen Crematorium for a private committal.
Lisa said: "We're being picked up at 9.45am and we want to get a convoy of people with cars and motorbikes just to follow him on his last journey. It's more of a celebration of his life than a mourning because he deserved it.
"We want people to wear bright colours and superhero costumes because he was a superhero. He was cute and lovely.
"Jaxon was a very happy baby and everybody loved him."
To donate to the family's fundraising page for CHAS, visit: tinyurl.com/jaxonstars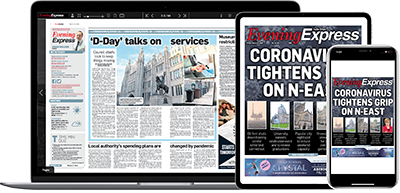 Help support quality local journalism … become a digital subscriber to the Evening Express
For as little as £5.99 a month you can access all of our content, including Premium articles.
Subscribe