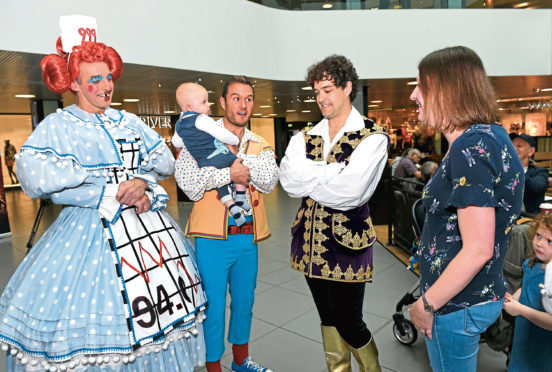 Nicola Beaton knows just how funny His Majesty's panto can be… because last year she laughed so much she went into labour.
So when the stars of this year's panto – Lee Mead, Alan McHugh and Jordan Young – arrived yesterday to give a sneak preview of Snow White, Nicola and baby Alfie were at the Bon Accord Centre to greet them.
"Alfie arrived just a few hours after I was at Aladdin last year. He was six days early. I had absolutely no twinges then at 8pm that night I went into labour," said Nicola, 36, a civil servant from Bridge of Don.
"I think there's a good chance that the panto got Alfie here early because I was laughing so much."
Nicola decided to turn up at the Bon Accord Centre with Alfie and his big sister Emily, 4, to meet the stars and share her story.
As they chatted, Jordan, who will play Mumbles in Snow White, was delighted by Nicola's news.
He joked: "If there are any heavily pregnant women in December, just send them along to us and we'll get things started for them."
The three stars were in the Granite City to give panto fans a glimpse of Snow White.
Holby City star Lee said he was thrilled at the prospect of performing in Aberdeen.
"I'm very excited. This is my first time back in Aberdeen for about 14 years," he said. "I was in the chorus of Miss Saigon. It's great to come back."
Lee, who has starred in West End hits such as Joseph and Wicked, will be playing Prince Charming.
He said: "This is my first ever Snow White. I've done Cinderella a couple of times, Robin Hood and Aladdin.
"So there will be a lot of singing from me, I'm sure there will be some dancing as well, which isn't my forte," he said, laughing.
"I'm mainly here for the singing and to give Snow White that magical kiss."
He said he was looking forward to working with Alan and Jordan.
"They are seasoned pros, so it's nice to come in and be part of that set-up," he added.
"I hope audiences just enjoy themselves, switch off, be with the family and have a great time."
Both Alan, who plays the dame Nurse Nellie McDuff and Jordan said they were looking forward to working with Lee too.
Alan said: "He came up last night and we initiated him to Aberdeen. We went for a curry and a few pints.
"I've seen his last few pantos. He's a fantastic straight man, he's a terrific singer and one of the best things about Lee is he's happy for his image to be sent up… which is food and drink to the likes of me and Jordan."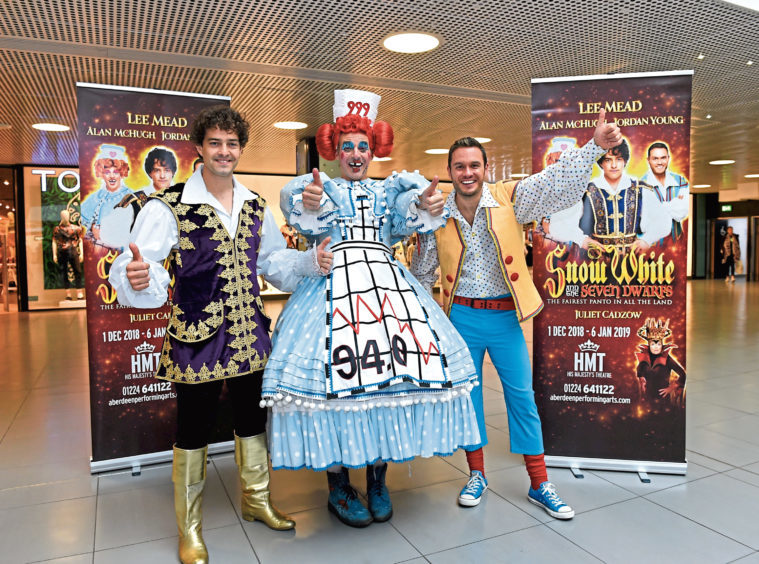 Jordan chipped in: "By January he will hate us."
Alan, returning for his 15th year at HMT's panto, said he had been working on the Snow White script for the past two or three months.
"It's nailed down and I think we've got a really good one this year. I can't wait to get out there and slam it down in front of the loons and quines and hopefully they will have a great time."
Jordan, now in his 12th year at His Majesty's for Christmas, agreed the script is excellent.
"I know I am going to say that, but I genuinely do think that.
"There is some brilliant wordplay in there. I think this year Alan's surpassed himself – don't tell him I said that. It's very funny and there's some great stuff in it.
"So please come along, you always support us in your droves and I think it's going to be a cracker this year.
"We love being here and sharing our Christmas period with you. And really looking forward to having a laugh with you again."
Snow White will run from Saturday December 1 to Sunday January 6.