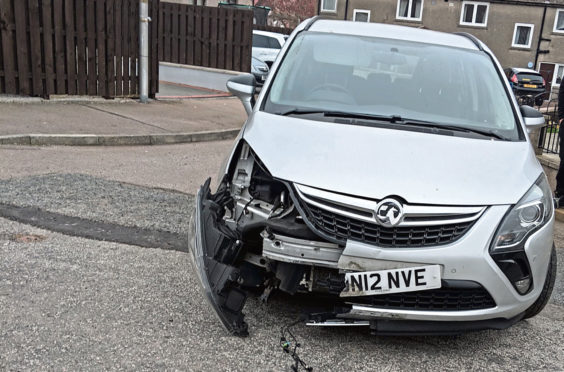 An Aberdeen mum today slammed a hit-and-run driver who wrote off her car, leaving her four-year-old too scared to get back in the vehicle.
Kirsty Rea, 25, had left her home in Mastrick to pick up daughter Ella, 6, from an after-school club and – just 50 yards down the street – was turning on to Tay Road when she saw a red car moving towards her.
She said: "I was only going about one or two miles per hour as I was pulling on to the road when I saw him, so I put my brakes on to let him pass."
According to Kirsty, the male driver – who was coming from their left – was "distracted" and heading straight for her four-year-old son Logan, who was in the front passenger seat, but swerved at the last second and struck the opposite side of the car, causing substantial damage to the headlight and front bumper.
Kirsty said: "He was looking down, then when he looked up he ended up swerving into my car.
"I'm glad, though, because he swerved into the right side of me.
"Had he done so earlier he would have ended up swerving into my son.
"Of course he stopped when he hit me, then he looked straight at me and made a gesture with his arms that looked like he was shrugging."
---
---
Kirsty was told the car, which she had only owned for 18 months, would need to be written off.
Following the crash, the driver continued down the road, with Kirsty believing he would stop to exchange details.
However, the man made off along Tay Road, dragging with him part of Kirsty's bumper which was found by a friend three streets away.
Kirsty said Logan is now reluctant to get back in a car.
She said: "I had to go and pick up his sister from a group on Thursday, and, instead of going in my partner's car, he asked if we could just walk down.
"The guy doesn't realise what he's done.
"It's not fair. My son doesn't deserve that. I don't deserve that, and he needs to face up to what it is he's done."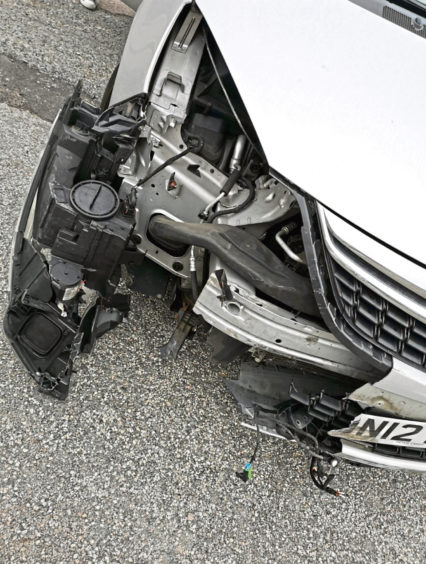 Now Kirsty, a childminder, has been forced to pay £2,000 for a new car, which she will take ownership of tomorrow.
However, she's now stuck for what to do for work, needing the seven seats the wrecked motor provided to ferry both her children and those she looks after to and from school.
Despite the trauma caused by the crash, Kirsty has welcomed the outpouring of support she has received on social media.
A Police Scotland spokeswoman said: "Officers are investigating the incident.
"Anyone with information is asked to contact 101 quoting reference 3434 of April 24."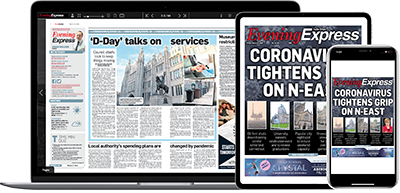 Help support quality local journalism … become a digital subscriber to the Evening Express
For as little as £5.99 a month you can access all of our content, including Premium articles.
Subscribe