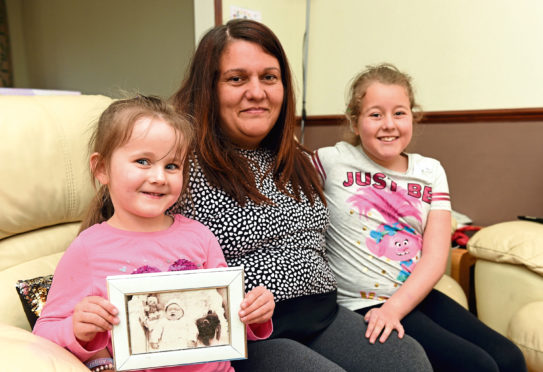 An Aberdeen mum is raising funds to support a charity which gave her vital support after her daughter was stillborn 10 years ago today.
Natasha Hauzaree had longed to become a mum for years when she fell pregnant in 2009 with daughter Angel.
But tragically her much-loved daughter was stillborn with the 47-year-old's life changing in a "matter of seconds".
Natasha, who is from Cove, and later went on to have daughters, Lilly, eight, and Kaela, four, said: "When I heard there's no heartbeat, your world just goes.
"Sometimes it seems like yesterday that I held her. I've gone on to have two girls and they speak about her a lot."
Now, to mark 10 years since Angel's passing, Natasha has organised a family fun day to raise cash to support the work of Sands – the stillbirth and neonatal death charity.
She said their support helped her through her darkest hours in the months and years after Angel's death, and still help her to this day.
Natasha, who works as an early years practitioner, said: "I just wanted to do something to raise money and give something back to them.
"They give advice and they listen. "In the beginning they just listened to my story.
"It was almost like going round to a friend.
"I would probably have lost my sanity if it hadn't been for them."
The charity, which operates throughout the UK, supports anyone affected by the death of a baby, working to improve the care bereaved parents receive, and promoting research to reduce the loss of babies' lives.
Volunteer groups and befrienders also work within the charity to ensure anyone affected by the death of a baby has access to compassionate, experienced support.
Natasha is training to become a befriender herself – to help others going through a similar experience to her own – and said organising the fundraiser has helped focus her mind ahead of the difficult anniversary.
She said: "Last year I thought I'm ready now to give support to other people.
"I don't know how I will be on the day but it has helped keep my mind occupied."
Natasha said she felt "totally blessed" when she went on to have two more daughters and counts "every day as a blessing".
The charity family fun day will be held at Inchgarth Community Centre from noon to 2pm on Sunday.
People visiting the event can enjoy face painting, a raffle, bouncy castle, an ice cream stall and bottle stall.
Entry for adults is £2 and includes a free raffle ticket and kids pay £3 each which includes free use of the bouncy castle and a balloon model.