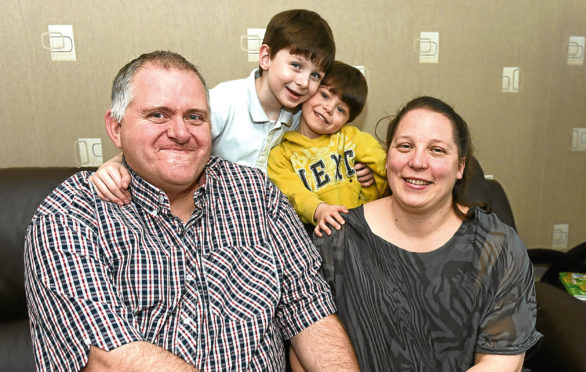 An Aberdeen mum-of-two today spoke of the moment she saw her life flash before her eyes after suffering a heart attack aged just 37.
Occupational therapist Kerry-Ann Richter had just finished a shift at Woodend Hospital and had gone home to put her sons Nathan, 7, and Niall, 2, to bed when her life changed forever.
She said: "I was sorting out some paperwork at my dining room table, so nothing stressful or energetic, and felt a crushing pain in my jaw.
"Within about 10 seconds the pain went down my chest and I had a crushing chest pain and within another 10 seconds I had a really painful left arm.
"I'm an allied health professional so I know the signs and symptoms but thought 'don't panic, this cannot be a heart attack, 37-year-olds don't have heart attacks'."
Kerry-Ann's husband, Craig, 42, immediately called an ambulance, with one paramedic reassuring the mum-of-two there was "no way" she could be suffering from one.
But her worst fears were realised when paramedics carried out an electrocardiogram (ECG) to check her heart's rhythm, revealing Kerry-Ann was indeed having a heart attack.
She said: "I literally saw my life flash before my eyes. I was completely shocked.
"I thought about my boys upstairs and my life just flashed. I knew I was in really good hands but I was very concerned for my life, and fatality was definitely a conscious thought.
"I was really lucky and didn't need CPR or anything like that, but I had a lot of chest pain."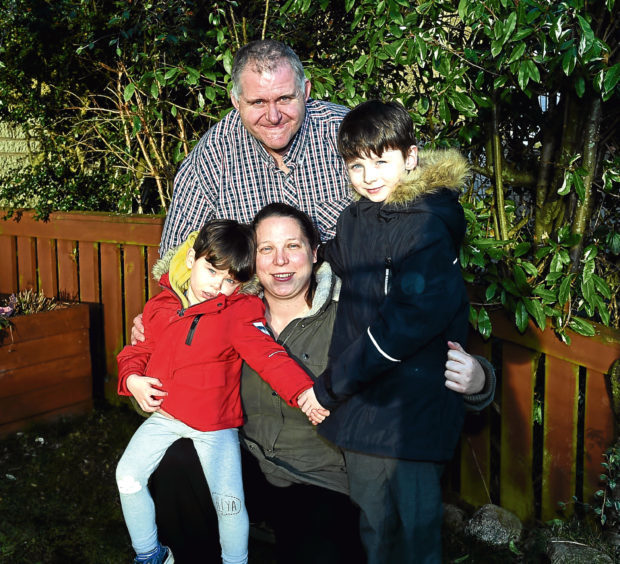 Kerry-Ann was soon rushed to the coronary care unit at Aberdeen Royal Infirmary (ARI) where within 12 hours she received an angiogram showing she had suff-ered a SCAD (Sponta-neous Coronary Artery Dissection).
This caused her right coronary artery to narrow by around 50 to 70%, blocking the blood flow to her heart, and causing the heart attack.
Kerry-Ann said: "The doctor did an ultrasound of the inside of my artery and saw there was a tear and bleeding and he was able to diagnose a SCAD."
SCAD is a rare heart condition that can't be predicted or prevented.
Many patients are young and fit with no risk factors for heart disease, so symptoms can often be ignored or mistaken for other ailments such as indigestion or gallstones.
The coronary condition also affects mainly women, with many SCADs occurring during or soon after pregnancy.
Kerry-Ann, of Woodend, was in hospital for two days after November's incident, and was treated with medic-ation. Doctors did not operate directly on the tear.
She said: "The best treatment they believe is as little treatment as possible to the tear.
"I have daily chest pains which are due to coronary spasms and I'm on medication to try to control that.
"I'm also on aspirin to try to prevent heart attacks and any bleeds."
The mum-of-two's recovery is expected to take between 12 and 18 months and involves a course of cardiac rehab to try to regain strength to her heart.
Since her heart attack, Kerry-Ann has sought the help of a local cardiologist who was able to set up a referral to a UK specialist in Leicester.
She said: "He has been really pivotal.
"I went and had an appointment with him in Leicester before Christmas but it was quite a traumatising time because I didn't want to leave my boys.
"But I also wasn't really well so I travelled down with my husband."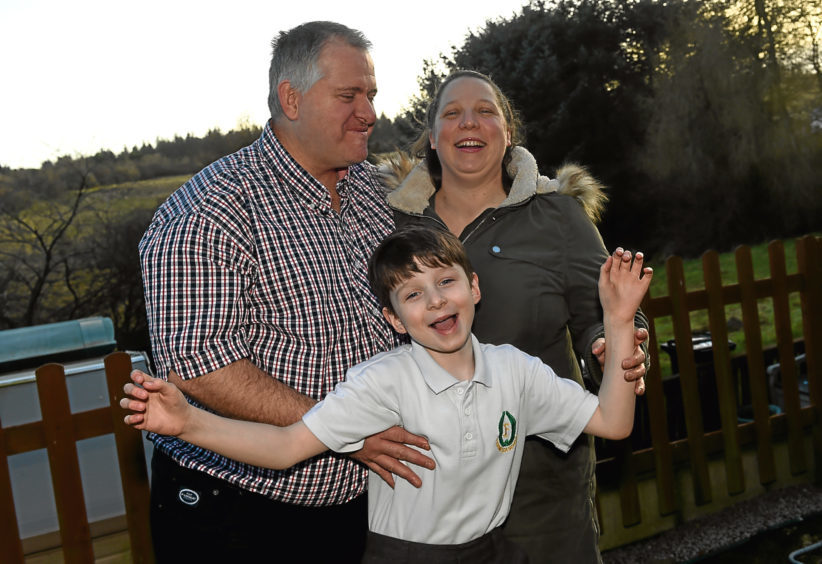 Kerry-Ann hasn't yet been able to return to work and can't drive or walk as far as before her heart attack.
She said: "I'm still trying to get my head around it (the heart attack).
"There are psychological effects because I almost died. I'm still going through a grieving process because I don't live the life I used to live before it.
"I can't walk as far or run after my kids in the supermarket. Just everyday things you take for granted.
"Any little bit of stress in my day or life causes me to have chest pains and become short of breath so I have to just try to keep myself calm and as stress free as possible."
And Kerry-Ann fears the possibility of having another heart attack, as can happen with sufferers of the rare condition.
She said: "I have got good prospects to make a recovery in the long term, but other people have had two or three SCADs."
Kerry-Ann has suffered post-traumatic stress disorder (PTSD) as a result of almost losing her life but is also determined to take what positives she can.
She said: "It makes me want to live life to the full and make the most of every moment."
To find out more information about SCAD, visit http://beatscad.org.uk/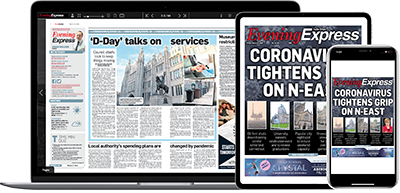 Help support quality local journalism … become a digital subscriber to the Evening Express
For as little as £5.99 a month you can access all of our content, including Premium articles.
Subscribe