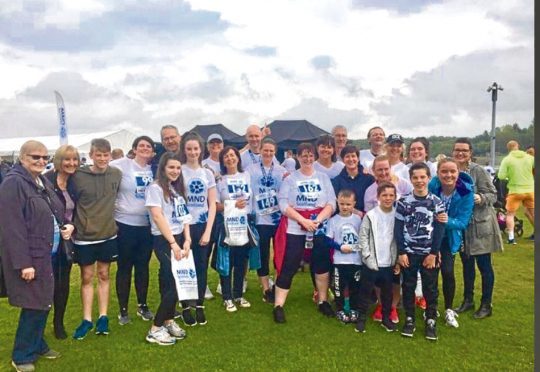 "What can I do to help?" has long been Graeme Peddie's mantra since he was dealt the earth-shattering news he has motor neurone disease.
The 51-year-old Aberdeen man, who was diagnosed in May 2015, has participated in a 12-month clinical trial at the UK's MND Clinical Research Facility at King's College Hospital in London and, in the past six months, his close-knit family and friends have raised an incredible £20,000 for research into the terminal condition.
More recently, Graeme returned to London to appear in a training programme – which was launched at a MND conference in Budapest – to help educate medical professionals worldwide.
The disease damages parts of the nervous system, leading to progressive muscle weakness – and there is no known cure.
Graeme's sister Lyndsay Eaton said: "Although Graeme was a little nervous, he felt it was really important for the training programme to be as authentic as possible.
"Up until then, actors had always been drafted in to play the part of a MND sufferer for the footage.
"Graeme's MND clinical trials nurse in London was filmed alongside him, and although his speech was laboured by then, because his nurse had known him for 10 months they were able to demonstrate the best ways of communicating and interacting with each other."
So far, Graeme's training programme has been shown to clinical specialists in Spain, France, Canada and the US.
Graeme was active in competitive sports all his life, with a passion for football and running. He first started to experience problems swallowing in November 2014. A few months later his wife Wendy, 47, who owns Organza Hair Design in Great Western Road, and the couple's twins, Grant and Ellie, 14, began to notice Graeme was slurring his words, and encouraged him to visit his GP.
"After three months of various tests, Graeme was eventually diagnosed with MND," said Lyndsay, 50.
"When he first broke the news to our mother Kathleen, brother Shaun and I, through his tears all he could do was apologise to us as he did not want to be a burden on the family.While he has received the very best of support from MND Scotland and NHS Grampian, there is nothing for now that can physically be done to help or stop the illness in its tracks."
Graeme, who lives in Mannofield, had worked as an engineer in the oil and gas industry for 30 years, before he had to stop working in December last year.
He spoke earlier this year about his diagnosis.
He said: "At first I felt very angry, frustrated and unbelievably sad for my family and myself. I felt incredibly guilty that my family would have to experience the agony of my deterioration and the fact they could do nothing to stop it.
"Throughout my life I have always found ways of overcoming what life throws at me and my family by taking actions to improve the problem. This time there is nothing I can materially fix or do to sort it."
Graeme's hope remains to find a cure for the devastating illness, and he credits his involvement in the trial as being "uplifting", "incredibly interesting" and "a positive experience".
He said: "Without volunteers for trials we will never find a cure or a way of slowing the disease's progression.
"I'm no hero, there are risks, but in order to find something and feel of worth I got involved, and I would encourage able sufferers to consider getting involved in any future clinical trial."
Graeme hopes the £20,000 raised for MND Scotland by family and friends – who took part in the MND Scotland Fun Run and Baker Hughes 10k, held a coffee morning, and other various fundraising events – can help find a cure for the 500,000 people worldwide who suffer from the disease.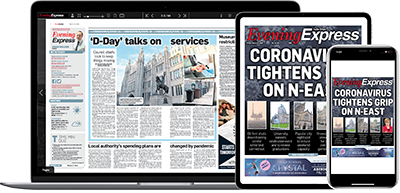 Help support quality local journalism … become a digital subscriber to the Evening Express
For as little as £5.99 a month you can access all of our content, including Premium articles.
Subscribe