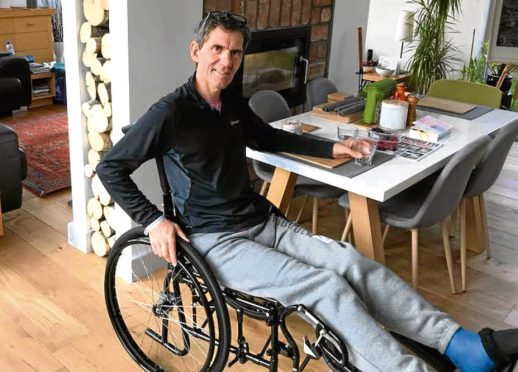 An Aberdeen man today spoke of taking his first steps after almost dying when he was struck by a vehicle during a 3,000 mile US cycle challenge.
Alan Corsie, 55, was left with two broken legs and a punctured lung in the accident between Mariana and Tallahassee in Florida.
And he was forced to abandon plans to marry his partner at the end of the fundraising challenge.
Alan had just four days left of his six-week bike ride between San Diego in California and St Augustine in Florida when he was injured on November 11.
But he is now back on his feet after the incident that put him in intensive care.
He has thanked the medical staff who helped him saying "without them, I might not be here".
He had around 350 miles to go when he was hit by a vehicle while attending to his bike – and his injuries required three separate operations on his ankles that saw titanium rods installed.
The dad-of-three said: "I don't have any memory of what happened in the incident.
"I had a mechanical fault with my bike so was on the edge of the verge with my rider partner Allan Husher.
"The next thing I remember is waking up in intensive care in Tallahassee.
"However, I'm on the mend now, my punctured lung has healed and just last week I was up on my feet for the first time with the aid of my Zimmer frame.
"For the first time I feel like I have my legs back again.
"I think the surgeons did a great job and my ankles have eased off a bit now too, so day-by-day things are improving.
"I am pretty determined to get back on a bike. I am finally allowed to stand up with support boots.
"I never thought standing at a Zimmer frame and walking a few yards would feel like an achievement.
"I hope to be on crutches in a few more weeks, and if all is well after my next hospital appointment in six weeks, I will be allowed on a stationary exercise bike."
Alan, who now lives in Kinross, was helped by a passing state trooper and his riding partner who used a tourniquet to stem the bleeding. He said: "My right leg was in a bad way as it had the compound fracture. They were really worried about it.
"We were waiting around 50 minutes for an ambulance and I had an arterial bleed – it sounds cliched, but without them I might not be here, they saved my life."
He returned to Scotland at the end of November by air ambulance.
Messages of support and donations flooded into Alan's JustGiving page with £4,200 raised for Alzheimer Scotland.
His partner Sarah Price flew out to the US to be by his side after the incident. Alan added: "We had to cancel the wedding we were secretly planning so we'll have to rearrange that.
"We could possible go back to Florida, but I don't know.
"I think at some point I will be planning on getting back on my bike again – but that is in the future."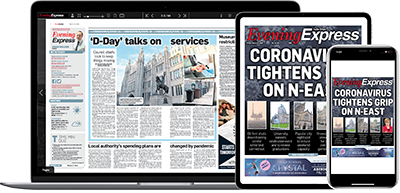 Help support quality local journalism … become a digital subscriber to the Evening Express
For as little as £5.99 a month you can access all of our content, including Premium articles.
Subscribe