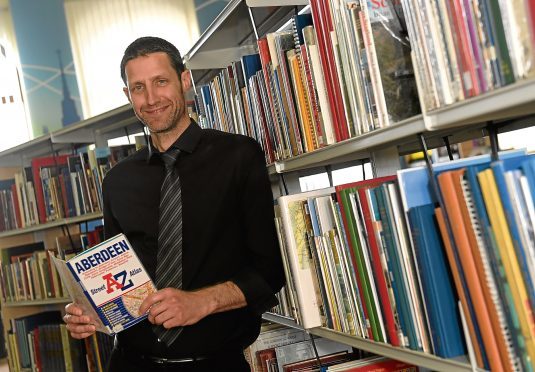 An Aberdeen man is to take on an impressive running challenge which will see him take part in an A-Z tour of the city's libraries.
David Main, 40, is to undertake an alphabetical tour of all the libraries in Aberdeen – following a route which is the equivalent of three marathons back to back.
He'll start and finish at the Central Library, where he works.
Choosing June 21, the longest day of the year, David will be running from sunrise at 4.12am and hopes to complete the tour by sunset at 10.08pm.
It comes as part of a wider Man v Dog challenge, in which he aims to run 2,017 miles this year to raise awareness of mental health and to raise some money for charity.
David said: "Being a librarian, and being in Aberdeen, I wanted to do one of my challenges here. I've done different running challenges before but this is the first time I've done one in the city. That's why I chose Archie, I wanted a local charity.
"It's the 125th anniversary of the Central Library this year so it all kinds of fit together really.
The shortest route is 61 miles I think, and that's if you're going directly between every branch, but I'm going to do a bit more because there's a few mini detours I want to do, so I've been told it's going to be in the region of 70 miles. It might even be pushing 80, I'll wait and see how it goes.
"I tend to do the challenges in summer so I thought it was feasible to try and do it in one day. It's basically three marathons back to back so I thought I might as well choose the longest day so I've gone for the summer solstice.
David has been completing challenges for the past few years, including running from the most western point of Scotland to the most eastern point, but felt disheartened when he wasn't able to complete his last one.
The Man v Dog challenge was launched during Mental Health Awareness Week and is a way for him to feel that all his running counts towards a wider challenge – even if he doesn't make every one – and encourages him to be open about his mental health.
Referring to the "black dog" of depression, David said: "The metaphor is either the dog's going to do it or I'm going to do it first.
"I want to beat the dog to the 2,017 miles. It's a very open thing that I struggle with depression and I use running to help. It's as simple as that.
"I'm trying to help people because I know how bad it feels. Following May, I've had more conversations now with people about how they feel.
"When you struggle with stuff, you put a mask on and I don't think people necessarily realised that I was a person who struggled and when you're kind of open about it, people feel they can talk to you.
"When I did the Baker Hughes, I did it in a full blue suit, basically saying it's okay to be blue sometimes. I just want to get that message across. It's normal, it's definitely not a problem.
"The key message is switching that focus. When you're depressed it's so easy to get self consumed with all your own thoughts. Helping someone else is the best way out of it.
"Don't wait for a great day, take a day and make it great. For me that's what this is all about. Whatever happens, it's going to be a very memorable date."
Jamie Smith, fundraising manager for The ARCHIE Foundation – official charity of child health in the north of Scotland – said: "We're absolutely delighted that David has chosen to raise money for The ARCHIE Foundation and with such an epic and unusual challenge. We wish him the best of luck!"
You can donate to David's fundraiser at www.justgiving.com/fundraising/runmainia2017