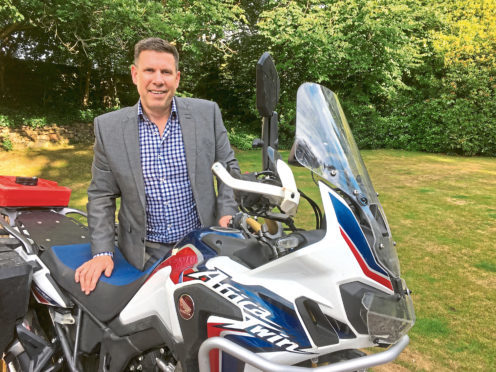 An Aberdeen man is revving up for a 3,000-mile journey around the UK on his motorbike for a north-east cancer charity.
Robin Parkinson, of Pitfodels in Aberdeen, was heading off on the 3,154-mile lap of the country for Friends of ANCHOR today – and is aiming to complete the challenge in just 100 hours.
The dad-of-one plans to only take a toothbrush with him and sleep outdoors by his bike every day during the journey, which was to start and finish in the city.
It is not the first time the 45-year-old has raised funds for the north-east charity. In April, Robin, a director at Evolve iMS, took on the North Coast 500 – a 516-mile route around the north coast of Scotland – plus an additional 200 miles from Aberdeen to Inverness.
He said: "I have done a few things in the past for Friends of Anchor. In April I did the North Coast 500 plus another 200 miles in 24 hours.
"I saw that Mark Beaumont had cycled round the whole of Britain so I decided to do the same thing and follow his route. I've done a fair bit of endurance riding in the past, including cycling through the Sahara Desert.
"It could seem a little mad but I've got a lot of experience in longer journeys. I'm planning to just bring a toothbrush and a few energy bars as well."
Friends of ANCHOR is a charity close to Robin's heart after he lost his mother to cancer when he was 20.
He said: "I've had a number of friends who have battled cancer including my best man.
"My mum also tragically died of cancer when I was 20 – retrospectively that was probably the reason behind why I fundraise for cancer charities. It had a massive impact on me.
"The work of the charity is amazing.
"They do so much good – it's unbelievable how many people cancer affects and there won't be many in the north-east that haven't been helped in some way, whether you're living with the illness or it's someone you love."
Robin, who is dad to eight-year-old daughter Emily, has raised £1,350 so far.
He said: "The response I've had from people has been amazing."
To donate visit bit.ly/2JScRiQ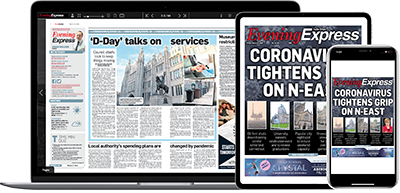 Help support quality local journalism … become a digital subscriber to the Evening Express
For as little as £5.99 a month you can access all of our content, including Premium articles.
Subscribe