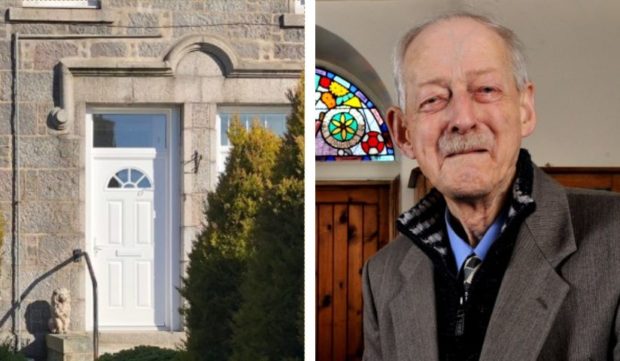 A generous Aberdeen resident is continuing to support the community he loved almost three years after his death by gifting his home to volunteers.
Peterculter man Allan Pennie, a co-founder of St Peter's Heritage Trust, left his North Deeside Road home to the organisation.
Allan – who was honoured with a stained-glass window shortly before he died – passed away in April 2016, days before his 88th birthday.
The Peterculter-based Trust revealed the incredible gesture after legal paperwork was completed.
As well as co-founding the Trust, he was also an elder and treasurer at St Peter's Church and helped set up the Manor Project to support people affected by homelessness.
Trust chairman Callum Stuart said: "As one of the founding members, it was something that was very close to Allan's heart, so much so that he asked for his estate to be tied up in a trust.
"It will all come under the control of the Heritage Trust and we are so grateful for everything Allan has done for the Trust.
"Allan and one of the other co-founders, J Arthur McFarlane, who died in 2007, have left sizeable legacies which will help support the work we do.
"It will enable us to do so many things which will enhance the local area. We have already been able to upgrade the old church roof and the Heritage Hall, and this will enable us to do more things like that.
"They gave so much to the Trust as two founding members and everything they have given us is going back into the area to improve it."
The news of Allan's generous gesture came as the Trust prepares to celebrate its 20th birthday.
The anniversary season begins on April 6 and will mark the first time visitors are able to use the refurbished entrance of the heritage museum.
Callum said: "We are celebrating 20 years this year and as part of that we are trying to encourage people to get involved in the ongoing history and culture of the area.
"We have just spent a significant amount of money on the new entrance hall at the heritage museum, which will make the centre a much more friendly place for everyone who comes through the door.
"We're really hopeful that people will be able to see the difference when they come to visit the museum.
"We are just trying to encourage the local community to come in and take part in events and help us make Culter a vibrant place to live and visit.
"We don't get any financial assistance other than fundraising, so we are always reliant on volunteers who can come forward and help us continue the legacy of the area.
"That allows us to do so many things that we may not have been able to do.
"There are still one or two people who have been with the Trust since the very start and have seen it all the way through.
"We want to preserve everything we can, as well as encouraging people to get involved or even just take a look at some of the things we have been doing over the last 20 years."