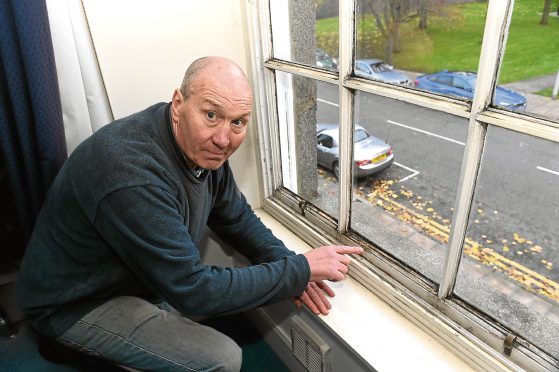 An Aberdeen man has hit out at his local authority for failing to carry out repairs on his flat's windows.
Last year, former amateur boxer and Skene Place resident Freddie Cumming, 61, revealed he had been urging Aberdeen City Council to sort out the issues with his windows for the past decade.
The building, called Skene Place, is on Skene Street and currently houses 12 properties which are a mixture of council and privately owned homes.
A spokeswoman for Aberdeen City Council said it was being advised about what work can be carried out on the B-listed building.
Dark mould stretching up to the ceiling has grown around the window frame in Mr Cumming's home, where condensation also builds up.
He is hoping he can have double glazing installed.
Mr Cumming, who lives alone, said: "It has been another year and I'm still waiting.
"I am getting sick of speaking to them about it and it feels like they are just ignoring me. It is single glazing just now and I'm hoping they could put in double glazing."
MSP Kevin Stewart was contacted by Mr Cumming last year in the hope he could pursue his case.
The Aberdeen Central MSP said: "The council has had more than enough time to find a solution to replace the windows at Skene Place, but their delay means residents are facing yet another winter of single-pane glass letting the cold in.
"This saga has been ongoing for far too long now, and it is high time the council planners made progress.
"Listed buildings are challenging to repair, but this is not impossible and there is no excuse for a replacement to have taken this long to consider."
An Aberdeen City Council spokeswoman said: "After waiting to receive advice as to what work can be carried out on this historic, B-listed building, we will carry out required repairs to our properties and once these are finished, we will install of secondary glazing through our Housing Capital budget."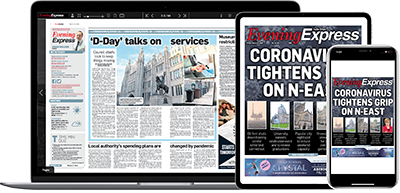 Help support quality local journalism … become a digital subscriber to the Evening Express
For as little as £5.99 a month you can access all of our content, including Premium articles.
Subscribe