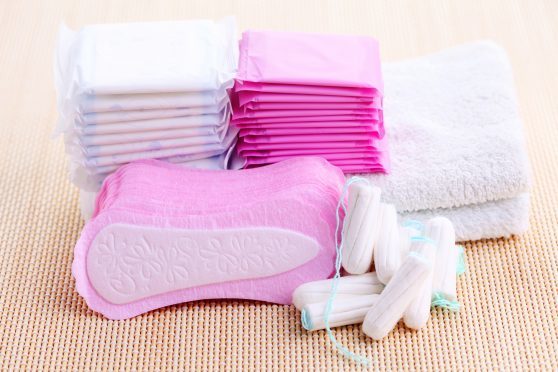 At least 1,000 women and girls from low-income homes in Aberdeen are to receive free sanitary products as part of a new six-month pilot being trialled in the city.
The Scottish Government project, backed by £42,500 of funding, will ensure access to sanitary products for local women in immediate need.
The pilot will be run by Community Food Initiatives (CFINE), a social enterprise which focuses on improving the health and wellbeing of people in poverty.
CFINE will distribute free products to women in seven of the city's regeneration areas, with an emphasis on ensuring dignity.
Such areas include Torry, Northfield and Tillydrone.
The pilot was launched by Equalities Secretary Angela Constance at the social enterprise's base on Poynernook Road yesterday.
Ms Constance said there is growing evidence in Scotland that women are struggling to afford sanitary products.
She added: "This pilot project in Aberdeen will be very informative.
"It's a first step but the pilot project will inform what we do next to address period poverty across Scotland.
"This pilot project will take place in at least seven regeneration areas across the city and will benefit at least 1,000 women and girls, to ensure they access the products they need.
"This will give us valuable learning into how best, particularly at a local level, to reach women in a manner that is effective but also dignified."
When asked if sanitary products could eventually be given out to all women, regardless of income, the Scottish Minister said the focus has to be on those "in most need".
She added: "I think most people understand the need to find ways to reach out to women and girls who are struggling financially.
"It's a product women are required to use through necessity and we shouldn't be embarrassed to talk about periods or sanitary products .
"But I am very conscious that if we are to be effective in reaching out to women and girls on lower incomes then we need to have the dignity and respect of women at the very heart of our approach."
Dave Simmers, CFINE CEO, said that over a woman's lifetime, sanitary products cost on average more than £5,000, a "significant sum" for those on low incomes.
He added: "Many cannot afford them and may use inappropriate methods or miss school.
"The findings of this pilot should be very useful in informing future action by the Scottish Government."
Fiona Young, a community development worker at Tillydrone Community Flat, said she thinks the move is "brilliant and much needed.
"We provide a small food bank through FareShare Aberdeen," she added.
"Women often find it hard to come forward to ask for support for their household, especially if they've got children.
"We get some young girls or women who will come in who will ask for sanitary products.
"We keep small supplies in the office and occasionally we offer them to people if they come for food as well.
"But you see horror stories in the media of young girls using toilet rolls and sellotape, and of missing school.
"If you're trying to feed a family and you're on a low income, you've got to pay your fuel bills and feed your family.
"On top of this buying sanitary protection, which is expensive, can be an unaffordable luxury. It shouldn't be, it's a necessity.
"Women don't choose to have periods, it's something that happens whether we like it or not."
SNP MSP Gillian Martin has long been an advocate for ensuring more is done to tackle the issue in the North-east and across Scotland.
Earlier this year, Ms Martin wrote to Ms Constance calling for an investigation into what could be done.
The Aberdeenshire East MSP said: "This is a bold initiative which will help support women in need but also tackle the stigma around the issue of period poverty.
"Poverty is the main reason certain women and girls cannot access period products but there are other barriers like domestic abuse and coercive control, where a woman may not have access to her own money, or is stopped from accessing the products she needs.
"Personally I think access to period products is a basic right.
"It is an issue which faces many women across Scotland and the North-east is no different.
"This not just a health issue. It's an issue that affects the attainment and education of young girls living in families struggling to get by.
"Many girls will miss school every month because they have no access to products, and that's unacceptable to me.
"This pilot scheme will allow women and girls to access sanitary products without embarrassment and I wish all those behind the project every success."
Tom Mason, Scottish Conservative MSP for the North-east, said: "I think most people would agree that it is not acceptable that any woman or girl in Scotland in 2017 is unable to afford or have access to sanitary products.
"This initiative should be welcomed and the results closely monitored to assess if this is something that can be rolled out elsewhere in Scotland.
"It is often overlooked due to the relative affluence of this area, that Aberdeen has pockets of real deprivation.
"Low income should not be a barrier to accessing these products – which are a necessity rather than a luxury."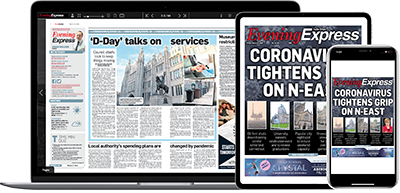 Help support quality local journalism … become a digital subscriber to the Evening Express
For as little as £5.99 a month you can access all of our content, including Premium articles.
Subscribe