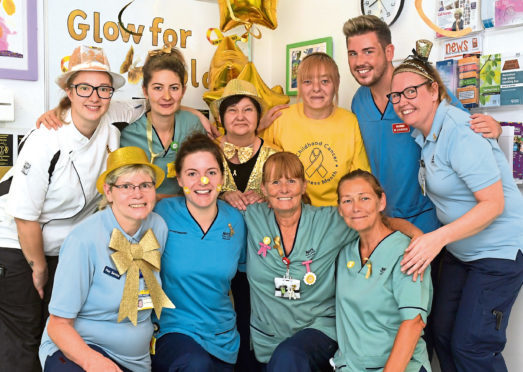 An Aberdeen hospital has backed a campaign aiming to raise awareness of childhood cancers.
Staff at Royal Aberdeen Children's Hospital (RACH) added some sparkle to their scrubs to back the Glow Gold September initiative.
The campaign, spearheaded in Aberdeen by Milene Munro, hopes to familiarise people with the sometimes vague symptoms of childhood cancer.
Staff from various departments – including laundry, catering, nurses and surgeons – added a gold glitz to their uniforms.
Activities were set up in RACH's Day Case Unit for patients to decorate cardboard hats with gold accessories.
People were also asked to guess the number of sweets in a jar, with funds going to Aberdeen charity Calico. The charity supports families with children suffering from cancer or leukaemia and provides equipment for RACH.
For Milene, RACH's backing signified great success for her campaign, which also includes the gold bikes placed around Aberdeen city centre.
She said: "My perseverance has worked. Last year I had a stall in Aberdeen Royal Infirmary reception and this year the whole of RACH has turned gold."
Milene, 49, was inspired to raise awareness after her own experiences with her son Braeden Williams, who sadly passed away in 2014, aged seven, after battling a brain tumour.
The city centre resident, who is also mum to 31-year-old Kimberly, found returning to RACH difficult but worth it to see everyone join in.
She said: "It is strange coming back – I don't usually spend much time inside – but it's great to see gold all over the hospital."
Maureen McDonald, a play specialist at RACH, said: "I have worked here for 19 years and it's challenging but so rewarding.
"It's been great to see all the staff making an effort and giving their support to the campaign. We hope to make this an annual event in RACH and get everyone glowing for gold."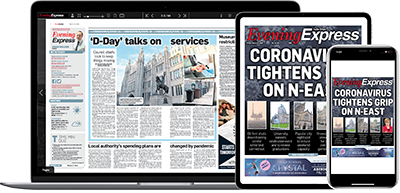 Help support quality local journalism … become a digital subscriber to the Evening Express
For as little as £5.99 a month you can access all of our content, including Premium articles.
Subscribe