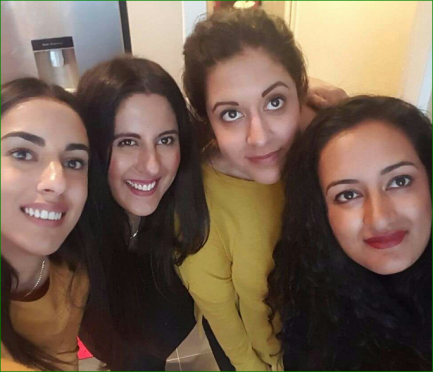 An Aberdeen hairdresser diagnosed with cancer has received treatment from a doctor who has treated A-list stars.
Abdul Suliman, 66, was diagnosed with advanced small cell cancer at the end of last year.
His family launched a fundraising campaign to raise £100,000 to get their dad treatment.
Abdul and his family travelled to London for private treatment from renowned oncologist Professor Justin Stebbing.
The professor of cancer medicine and oncology at Imperial College London is one of the world's leading researchers into novel cancer treatments, particularly immunotherapy.
He has treated a host of stars, including actor Michael Douglas and TV presenter Michael Parkinson.
Abdul's eldest daughter Sherbanu said: "We knew he was good because he has treated the likes of Michael Douglas and Lynda Bellingham – who is best known for the Oxo ads.
"We went down in March because he specialises in immunotherapy, but when we were there he decided that the best course of treatment for my dad was to have chemotherapy.
"My dad underwent chemotherapy and is now back in Aberdeen."
The 41-year-old added: "Prof Stebbing gave us some hope but for him to be willing to continue with treatment it couldn't be done from afar, we would really have to be in London full time."
Back in Aberdeen surrounded by his family, Abdul, who lives in the King Street area, is continuing to receive treatment.
Sherbanu said: "He was better when he came up from London but quite weak – he is not 100%.
"He is actually quite down to be honest.
"He is missing being in the shop and missing his life."
Abdul, or Scissors Suliman as he is known to many, has worked as a hairdresser in Aberdeen for the past four decades.
In his younger days he cut the hair of many of the local footballing legends including the Dons Cup Winners' Cup-winning captain Willie Miller and midfielder Gordon Strachan.
So far the family has raised more than £14,000 for his fund, which has been raised through donations and fundraising events.
Sherbanu and her sisters – Sazia, Yasmin, and Layla – are now continuing with their fundraising drive.
They have set up a garage sale in their dad's shop – Abdul Haircutters on King Street – with clothes, toys and artwork for sale.
Sherbanu said: "There are a lot of vintage items for sale including pictures, good quality clothes and toys."
She added: "People have been walking past the shop and have been making donations; someone handed in £30 and another £10.
"My sister is also planning on selling cupcakes in the future to help raise funds."
She added: "There will be a raffle as well and we have had some good items donated for that as well, such as an i-Pad, Phillips shaver, works from local artists, and I am going to be phoning around for more items."
If anyone would like to find out more about the raffle or sale they can contact the shop on 01224 625878.
To donate to the Suliman campaign visit www.gofundme.com/sulimanproject