Abi Allan has already shown success in her sport – despite being only 12 years old.
The S2 Bridge of Don Academy pupil competes in kickboxing, and has been extremely successful.
She is shortlisted for the physical achievement award, which is part of the Children and Young People's Services Awards which aim to recognise the achievements of young people through sport.
She was nominated by head teacher at Bridge of Don Academy Daphne McWilliam.
Abi was selected to be part of the Team GB squad in the +47kg category, and placed third in the World Championships which were held in Budapest in May – facing stiff competition from some of the top competitors in the world.
She is the current British and Scottish WAKO champion in her weight category, and was crowned Open Weight champion in January 2018. She is also the current Scottish World Kickboxing Association champion in the -46kg category.
Mrs McWilliam said: "Abi trains almost every night for a couple of hours and is focused and determined to achieve the best she can. This is on top of her education.
"Her goal is to, if it becomes an Olympic Sport, represent Team GB at the 2028 Los Angeles Olympic Games.
"She spends a lot of time travelling to competitions and training events, taking her away from her friends after school and at weekends.
"But nevertheless, she is so determined and focused she does not see this as an issue and has very supportive friends around her.
"She plays her achievements down and does not look for praise, she is very sincere and grounded. It is great to have her as a pupil at Bridge of Don Academy."
The talented youngster was surprised to find out she had been nominated, after Mrs McWilliam surprised her with the news.
Abi said: "I was really surprised, I didn't know I had been nominated but I was pleased. I train four times a week but I'm about to go on holiday to Disneyworld in Florida for a rest so I'm excited for that."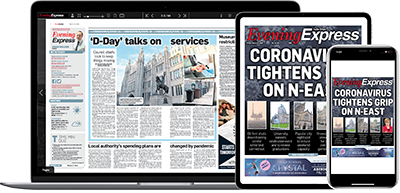 Help support quality local journalism … become a digital subscriber to the Evening Express
For as little as £5.99 a month you can access all of our content, including Premium articles.
Subscribe