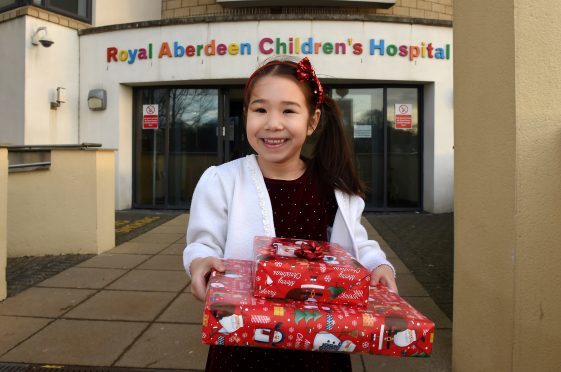 One little girl has spread festive cheer this Christmas – by asking Santa to give her presents to children in hospital.
Jenny Cormack, from Aberdeen's Bridge of Don, decided that instead of asking Santa for toys this year, she wanted to help the children at Royal Aberdeen Children's Hospital (RACH).
The six-year-old, who attends Glashieburn School, met hospital staff on Saturday to hand over the gifts.
Dad Mike Cormack, 38, said: "I just asked her what she wanted from Santa and she said that she wasn't really wanting anything, and what about all the poor boys and girls who were in hospital over Christmas and couldn't be with their mums and dads – they should have more presents.
"We kept asking her if she was okay to go ahead with it."
Jenny stuck to her wish – asking Santa to provide the children who she thought deserved an extra treat this festive season, by bringing toys to the hospital on his behalf.
Staff nurses at RACH were on hand to accept the big bags of donations from Jenny, which totalled around £100.
They were then distributed around the children at the hospital – where there are around 80 beds.
Mike said: "She's always been a very generous girl, but we didn't really expect it at Christmas.
"It's the time of year you sort of expect them to ask for something like a pony, not to donate their presents.
"We went to Toys R Us to pick out the toys. We had a big bag full of things for the children.
"She was very much looking forward to it."
It's the first time Jenny has decided to donate her presents, but dad Mike said that it was definitely in her character to do so.
He added: "She's always been very generous, she's always keen to make things for her friends and she always brings them back presents whenever we go on holiday."
Heather Beattie, NHS Grampian play service manager, said: "We would like to take this opportunity to thank Jenny and everyone else who has made generous donations to the hospital in the run up to Christmas.
"Your kindness is greatly appreciated."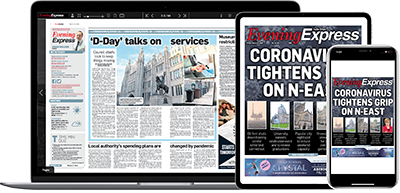 Help support quality local journalism … become a digital subscriber to the Evening Express
For as little as £5.99 a month you can access all of our content, including Premium articles.
Subscribe