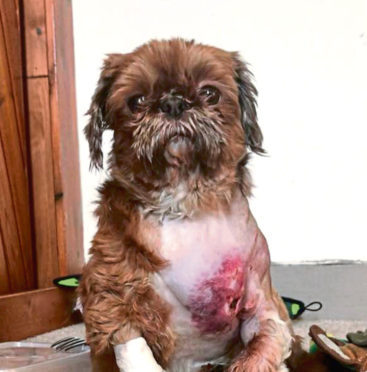 An Aberdeen family's pet is "lucky to be alive" after being brutally attacked in the street by another dog.
Mitt the shih tzu was on the doorstep of a property on Holburn Road, Aberdeen, when a pit bull-type dog mauled him.
The force of the animal's attack was so strong that three good Samaritans could not pull the animal away from Mitt – and the resulting melee spilled into the road and stopped traffic for 10 minutes.
Mitt's ordeal only came to an end when his owner managed to put a stick in the other dog's mouth to prise open the jaw.
The woman, who has asked not to be named, took six-year-old Mitt to an emergency vet and he underwent two hours of surgery.
Vets had feared the dog could have to have a leg amputated.
He has now been allowed home and is unable to walk more than four steps at a time.
His owner has called on the owner of the other dogr to "do the right thing and come forward".
The woman told the Evening Express: "The dog's owner could have stuck around or given me his details so we could allow the police to get to the bottom of it, but he just went off.
"I would like to see this dog muzzled and restrictions to be put on his owner – I'm not calling for the dog to be put down."
The incident happened at 6.05pm on Friday.
The woman said: "Mitt's entire front leg and chest are ravaged.
"I saw the dog, which was on a lead, pulling its owner and sink its teeth into Mitt.
"I just heard him shrieking and ran over. I grabbed the dog's collar to steady its head so it wouldn't shake Mitt around.
"Three men came to help and we all ended up in the middle of the road, stopping traffic trying to get the dog off.
"I was horrified by the whole experience. Mitt is such a friendly dog and I cannot believe this has happened.
"He's lucky to be alive."
A Police Scotland spokesman said: "We have been made aware of this incident and officers will speak with the owner of the injured dog.
"A decision will then be made on whether there will be an investigation."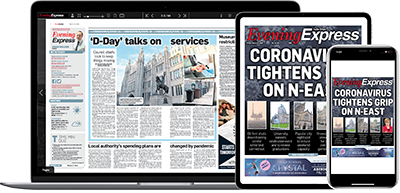 Help support quality local journalism … become a digital subscriber to the Evening Express
For as little as £5.99 a month you can access all of our content, including Premium articles.
Subscribe