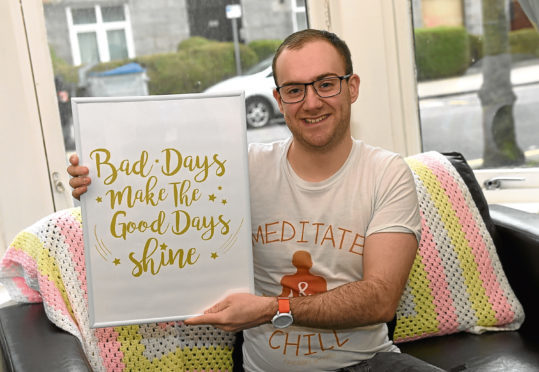 A graphic designer who developed a clothing line in a bid to break the stigma associated with mental health has spoken of his hopes of expanding the venture.
Aberdeen-based Lewis Edgar founded mental health clothing line Fandabby hoping the use of positive designs and colour psychology would help others – and all the proceeds go to charity.
The 23-year-old, who himself suffers from depression, anxiety and PTSD, founded Fandabby in 2013 when he was an in-patient at Royal Cornhill Hospital in Aberdeen.
He now hopes to open a pop-up shop in the city within the next six months.
Lewis uses his knowledge of visual communication to work around the meanings of different colours – for example, he does not work with red because of its association with anger, but tends to use more orange as it is known to bring out creativity.
He said: "I decided to focus on primarily bright colours to make mental health feel less of a dark cloud.
"Aberdeen is quite a dark and grey city, so adding a bit of light in it could change people's mindset."
It was while experiencing unhealthy emotions he came up with the idea of a T-shirt focusing on mental health and started developing the brand.
He said working on Fandabby "acted as a huge distraction" at the time, and helped him "gradually gain self-confidence".
Lewis is considering creating volunteer positions which would help him focus more on the designing side of his brand.
He said: "Fandabby provides a social community in which people can discuss mental health without feeling stigmatised.
"This would enable Fandabby to start conversations in the real world, as sometimes social media really isn't the place for this."
The brand's founder also donates all profits equally to YoungMinds and Rethink Mental Illness, two charities which support and promote his project.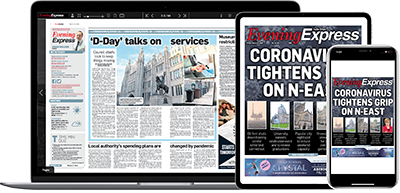 Help support quality local journalism … become a digital subscriber to the Evening Express
For as little as £5.99 a month you can access all of our content, including Premium articles.
Subscribe