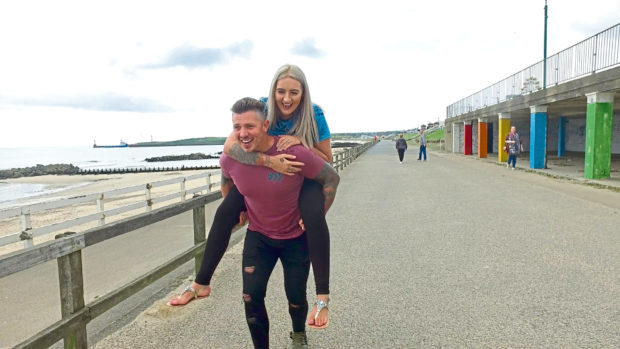 What started off as a joke between a couple turned into three weeks of wedding planning on national television.
Leanne, 24, and Calvin Davidson, 31, put their relationship to the test after taking part in the popular reality TV series Don't Tell The Bride on E4.
The show sees couples awarded money to create their dream wedding, however there's a twist – every detail must be organised by the groom, with no contact with the bride.
The happy couple are keeping tight-lipped about the exact details of the big day, but did say the £13,000 was spent on a "very Scottish wedding".
Calvin, a joiner, said: "The whole thing started off as a joke after the pair of us watched the advert asking for couples to apply.
"It was just two weeks after our engagement, but we thought a free wedding would be ideal for us as we have a baby on the way.
"To begin with, none of our family members wanted to be on TV and hated the thought of it.
"Yet after a while my mum and all the bridesmaids got right into it and really enjoyed the whole experience."
Calvin added: "We sent in an application and video of the two of us in April and the next day we got a phone call to come down to Glasgow for an audition.
"The whole process took about three months – we were absolutely buzzing when we were chosen."
Leanne, a mobile hairdresser, had to put her complete trust in Calvin's wedding day choices, since they were not allowed to contact each other during the filming.
Leanne, who is 27 weeks pregnant, said: "I had complete trust in Calvin to plan it all.
"There's always going to be hiccups on the programme, but because we'd been apart for such a long period of time we just didn't care what happened on the day.
"I would have done a lot differently if it was me organising the wedding.
"It would have been a big sparkly, glamorous wedding and I wanted to get married in a church.
"You hear that every time on the show, but it was such a good laugh.
"I was shocked that the wedding dress Calvin picked was far better than the one I had selected for myself originally. He clearly knows me better than I know myself."
The Bucksburn couple said the Granite City would feature prominently in the show, which airs later this month.
Calvin said: "We filmed a lot in Aberdeen. We went to Codonas where Leanne and I liked to bowl. So we filmed some scenes with us bowling and on the beach front. I think we have done Aberdeen proud by representing it."
Calvin said the entire experience was "trickier" than it looks on TV, but said it was "amazing".
He added: "You have to figure out what to spend the £13,000 on and having no contact with Leanne was tough.
"But we had such a good laugh even though it was stressful – it was an amazing experience.
"All I can say is that it's going to be a very Scottish wedding."
The couple are eagerly awaiting the arrival of their first baby and also the premiere of their episode.
Leanne added: "We'll be watching the episode for the first time when it's aired, which is exciting but nerve-wracking."
The episode will air on E4 on October 24 at 9pm.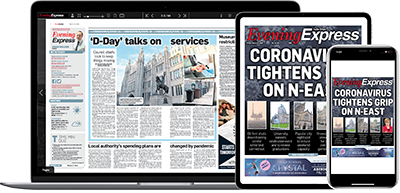 Help support quality local journalism … become a digital subscriber to the Evening Express
For as little as £5.99 a month you can access all of our content, including Premium articles.
Subscribe