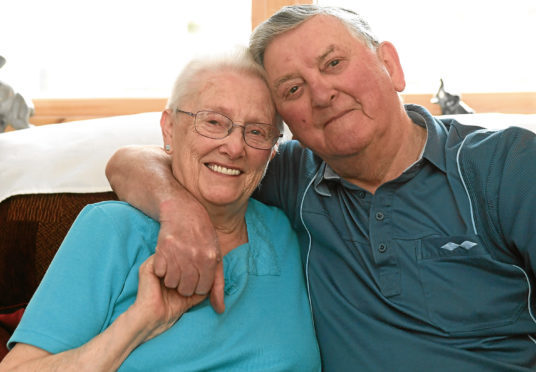 An Aberdeen couple have celebrated a milestone 65th wedding anniversary.
James and Jenny Miller, who are both 84, were married in St Clement's Church on March 28, 1953.
Jenny said the secret to their long-lasting marriage is patience and admitting when you are wrong.
She said: "We are still in love after all this time. We certainly do have our battles but you have to remember it takes two to tango and that there can be faults on both sides.
"Sometimes you just have to admit that you are wrong.
"Patience is a very important virtue in marriage. I'm also lucky that I have a very good husband."
James, a retired truck driver, and Jenny, who is a retired cleaner, have three children, eight grandchildren and nine great-grandchildren.
Jenny said: "Family is very important to both of us and we are a happy family.
"The highlights of our life have been having our children and then having our great grandchildren.
"I was still just a teenager when we got married, so we really have grown up together."
The couple, who live in Aberdeen, first met at a dance hall in the city.
Jenny said: "When we first met I had only just got out of hospital after having tuberculosis so I was still not 100%.
"I was living with my auntie when we first started seeing each other and remember she was quite strict. She gave me so many warnings about men and relationships so that made me quite cautious.
"I remember she told me that if I had a boyfriend she would be keeping a very close eye on me. It definitely took a bit of chasing from him before he won me over.
"I was on my guard about having a relationship and it took a little bit of time to trust him. But once he won me over that was that. I've never regretted it once."
She added: "I'm very lucky to have what I have. It couldn't be permanently rosy – we've had a lot of ups and downs but we're still in love. He can be so silly and once he gets going he has some sense of humour.
"We still have so much fun together."
James and Jenny celebrated their landmark anniversary at a meal with their family at the Northern Hotel.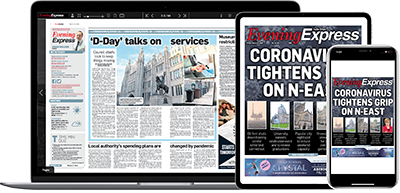 Help support quality local journalism … become a digital subscriber to the Evening Express
For as little as £5.99 a month you can access all of our content, including Premium articles.
Subscribe