Aberdeen councillors bed down for Social Bite's Sleep in the Park
Aberdeen's council leaders are gearing up to take part in a charity sleepout.
Jenny Laing and Douglas Lumsden, the co-leaders of Aberdeen City Council, will bed down for Sleep in the Park tomorrow night.
The duo will join 1,800 others in Duthie Park with temperatures expected to drop to -2C. The leaders have raised more than £550 so far.
Joining them will be chief executive Angela Scott and councillor John Wheeler.
Mrs Laing believes the cause is a worthy one.
She said: "It's a wonderful way of putting the national spotlight on the problems that we have with homelessness.
"We wanted to make sure we're playing our part in that."
She added: "I don't think for a second that spending one night outside is the same as being forced to do it every night, but I think people coming together collectively… makes sure the public is engaging with a problem that affects us nationally."
Mr Lumsden added: "I think there's a chance for us to raise money and awareness of the projects that Social Bite are doing.
"We're in a fortunate position where we get to sometimes make policy that affects homeless people.
"So I think it's helpful for us to experience that and have a bit of insight into what it's like to be forced to sleep outside."
---
---
More than 1,800 people from the north-east will take part in the sleepout, which the councillors believe shows the generous nature of the city.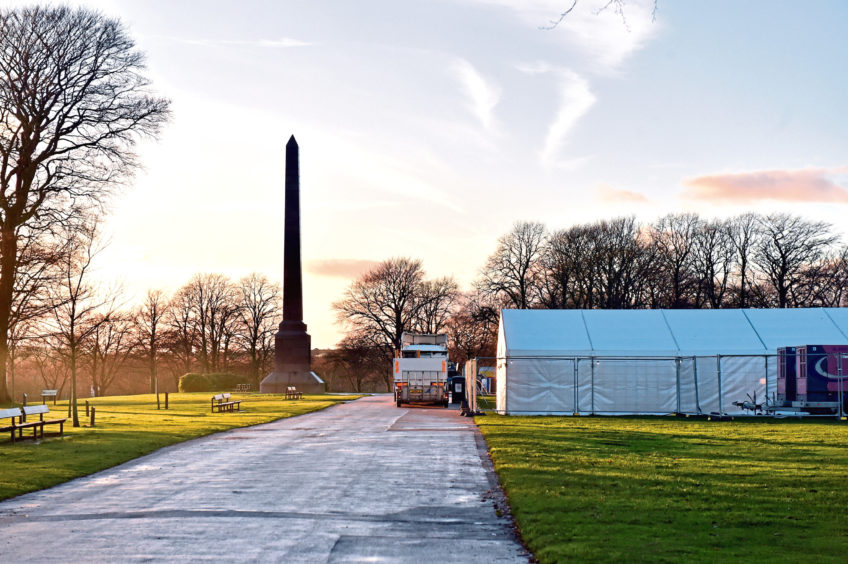 Mrs Laing said: "I think it shows there's a great collective spirit in Aberdeen, that people will come together to make sure they're highlighting an issue and raising money to benefit the projects.
"It shows there's great generosity in the city.
"We see it a lot when there are charitable events going on and I think that's to be commended."
Mr Lumsden said: "The good thing is the money will be invested in projects within Scotland.
"I think people realise it's going towards helping people locally."
The charity is looking to raise the cash to fund the Housing First initiative, which will provide "wrap-around" support for people sleeping rough.
Under the scheme, homeless people will be given support for any issues they may have, including mental health or addiction problems. It has already been rolled out in Finland where it has all but eradicated long-term rough sleeping.
Aberdeen City Council have partnered with Social Bite and other charities, including Aberdeen Cyrenians, to deliver Housing First across the city.
As part of the initiative, 820 properties across Scotland have been released which will be house people who are sleeping rough. Around 130 of the homes will be in Aberdeen and Aberdeenshire.
Crowds at the sleepout will be kept entertained, with KT Tunstall and Amy MacDonald pledging to play in all four cities.
Fairground Attraction lead singer Eddi Reader has signed up to host the Duthie Park event and Dons manager Derek McInness will be reading a bedtime story to the crowds.
Social Bite's Sleep in the Park: Sign up to make a difference
Four sleepouts are taking place tomorrow – in Aberdeen, Edinburgh, Glasgow and Dundee.
The funding will cover the programme for two years, and both Mrs Laing and Mr Lumsden hope the cost can be taken up by the local authority when that expires.
Mrs Laing said: "I think we would have to make sure we have sustainability of projects.
"What restricts us, as always, is the finances we need to support that.
"In a way, it's good that the Housing First model is being taken up at a local and national level but we have to make sure it keeps moving forward."