Plans to create a new public space could take a step forward next week if £550,000 of funding is approved.
Councillors on the City Growth and Resources Committee have been asked to give the green light to the six-figure sum for Schoolhill.
Last week elected members agreed to go forward with the first stage of work to widen the pavement beside the Art Gallery and Cowdray Hall and reduce the size of the road at Schoolhill.
The project comes ahead of the long-awaited reopening of the Art Gallery in 2019, which is expected to draw more visitors to the area. The gallery, which is currently undergoing a £30m refurbishment, has so far been delayed by more than a year.
Council officers said the work will help promote Aberdeen as an "attractive place where people will want to live".
In a report to councillors Scott Davidson, city centre masterplan programme manager, said: "The principles include establishing a new entrance to Aberdeen Art Gallery, the potential for an improved plaza to the Cowdray Hall war memorial, creating a new access route to Robert Gordon's College, creating an appropriate plaza adjacent to Robert Gordon University buildings, retaining appropriate mature trees and the Victoria Cross memorial in addition to reconfiguring the Schoolhill carriageway to support active travel recognising that it is part of the national cycle network."
In the report it states the council is anticipating 350,000 visitors a year when the gallery reopens.
It is expected that if the works on Schoolhill are approved they would be completed in early 2019.
Mr Davidson added: "A clear contribution to city centre place-making needs to show a creative and integrated approach to urban design and travel management.
"The enhancement will help to create a significantly improved urban environment that delivers on the city centre masterplan objective of promoting the city centre as an inclusive and attractive place where people will want to live, work and visit."
The meeting will take place next Tuesday at the town house.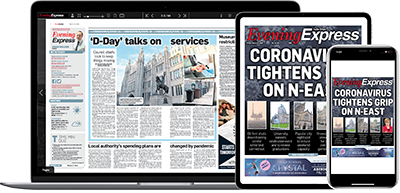 Help support quality local journalism … become a digital subscriber to the Evening Express
For as little as £5.99 a month you can access all of our content, including Premium articles.
Subscribe