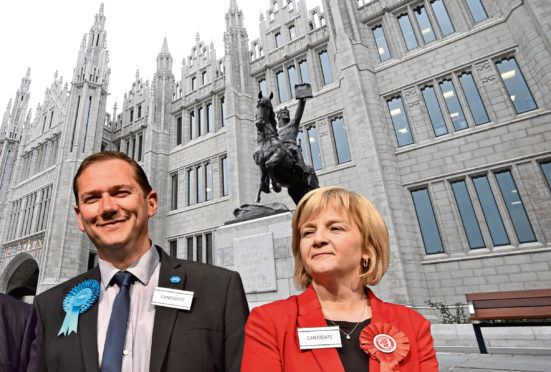 The Finance Secretary has been asked to give Aberdeen an extra £20 million in a bid to help struggling businesses stay afloat.
The co-leaders of Aberdeen City Council have penned a letter to Derek Mackay calling for action ahead of him delivering his draft budget in Holyrood today.
The letter, signed by Jenny Laing and Douglas Lumsden, urges the Scottish Government to treat Aberdeen as a "special case" by giving the local authority an extra £20m to help businesses survive the downturn.
It adds that while they understand councils have the power to implement their own business rates relief scheme, it "no longer has the finances" to pay for such a scheme as the lowest-funded council in the country.
They added: "We firmly believe that for both Aberdeen City Council and the Scottish Government to deliver on its priorities of supporting business, delivering jobs and sustainable economic growth, the Scottish Government's budget needs to help Aberdeen City Council help struggling business.
"As you will be aware, Aberdeen, Scotland and the UK has suffered terribly from the downturn in the oil and gas industry.
"Despite this downturn traditional industries such as seafood and retail are still expected to pay business rates which bear no resemblance to the tough economic conditions facing their industry thanks to the rateable values being higher than in all other regions of Scotland."
---
---
SNP group leader Stephen Flynn said: "In 2017 this administration voted against a fully-costed SNP proposal for rates relief and had to be dragged, kicking and screaming, to finally implement a scheme. And again, earlier this year, they rejected another fully-costed proposal to provide rates relief.
"Rather than write another letter they'd do well to focus closer to home and increase the resources available by finally putting a stop to never-ending project overspends."
Responding to Aberdeen City Council, Scottish Government said: "We are doing all we can to support the Scottish economy, including maintaining a competitive non-domestic rates regime for businesses.
"We provide the most competitive rates relief in the UK, worth around £720m, including the Small Business Bonus Scheme. The scheme currently offers relief to over 2,000 recipients in Aberdeen City, saving ratepayers in the area close to £50m in rates since being introduced.
"Our current Transitional Rates Relief Scheme, which benefits the hospitality sector across Scotland as well as in Aberdeen City and Aberdeenshire, is also expected to save businesses over £15m this year and will continue to 2022."