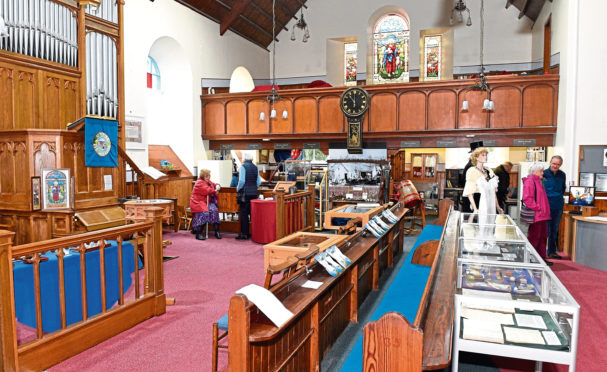 A society dedicated to preserving the history of an Aberdeen community is celebrating a historic anniversary of its own.
Peterculter's St Peter's Heritage Trust is marking two decades since it was founded.
In the years that followed, the trust has helped archive numerous artefacts of significant local interest, including a statue of Rob Roy which stood above Culter Burn from 1926 until 1991.
The volunteers also secured the purchase of the old St Peter's Church in 2002, converting it into a museum and hall.
The museum, which is now used as a space for a number of community groups and activities in addition to celebrating the history of the area, has now opened for its summer season and features an upgraded and refurbished entrance hall.
The trust's chairman Callum Stuart said: "We hope visitors will like the changes to the museum entrance area this year and we always encourage membership of the trust so we can keep you in touch with developments and events which we hold throughout the year.
"Since it was set up, the trust has gone on to develop the centre into the present Culter Heritage Museum, Tearoom and Events.
"This is run entirely by a group of trustees and volunteers who help to answer questions in the museum, run events, and bake and serve teas during the season.
"This is wholly self-financing and income comes in from letting out the hall space and from the tearoom. The hall currently has line dancing, yoga, pilates, music groups – details of all events can be found on the heritage events calendar or advertised on our noticeboards"
The Culter Heritage Museum is open from 2-4pm every Saturday and Sunday until October.
---
---
Meanwhile, the nearby Blairs Museum has also opened for its summer season, featuring a new exhibition focusing on the life of Mary Queen of Scots.
Curator Elinor Vickers said visitors to the museum will also be able to enjoy a number of other historical treasures in the coming year.
She said: "Blairs Museum is especially excited to be opening this year with a display on Mary Queen of Scots to tie into the new film, including the unique Memorial Portrait Of Mary.
"Visitors will be able to explore her real story with portraits and artefacts from her life.
"We also have a new display exploring the life of Bonnie Prince Charlie's little-known younger brother Henry.
"For 2019 we are to present the second part of The Grand Tour, an art exhibition of views of Rome in the 18th Century in prints by the artist Piranesi."
The museum is open from 10am until 5pm on Saturdays and noon until 5pm on Sundays throughout the summer.