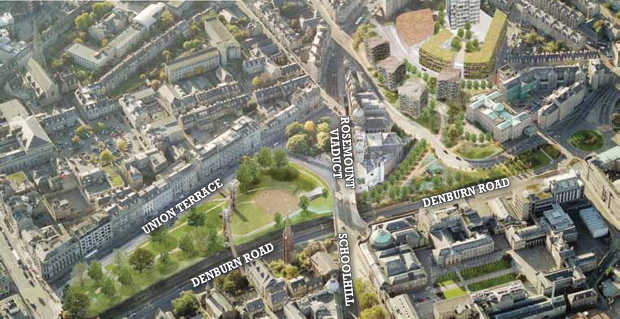 THE masterplan for Aberdeen city centre has been approved by councillors this afternoon.
In drafting it, consultants BDP looked at other cities for "take-aways" – lessons to be learned, useful ideas and guidance for driving the Granite City forward.
Examples include economic diversification, blending old and new architecture, and the type of leadership needed to turn a vision into a reality.
Today, at a full council meeting at the Town House, the plans were given the go-ahead.
Liberal Democrat Group Leader Ian Yuill said: "It gives me huge pleasure to give the full and unequivocal support of the Liberal Democrats to the Aberdeen City Centre Masterplan."
"Developing the Masterplan has however been the easy part. What really matters is delivery – and it is on the delivery of the projects included in the Masterplan framework – achieving practical results on the ground – that this council, and future councils, will be judged."
"Today we are seeing 'Team Aberdeen' at its best. The Liberal Democrats are committed to continuing to play a full part in 'Team Aberdeen' and work with others in the months and years ahead for the benefit of our city and its citizens."