An Aberdeen church has raised more than £340,000 to create a new community centre.
The Seaton Community Church picked up keys for the former building and works depot on School Road after planning permission was approved at the start of the year. It took control of the building through an asset transfer from Aberdeen City Council.
Pastor Barry Douglas said that members of the congregation were over the moon to have been granted planning permission and get the keys.
He said: "Monday was really a special day.
"We've been doing a huge amount of planning.
"We've also been doing a lot of fundraising over the past three or four months.
"We've got half-a-million to raise and we've got £346,000 so far.
"The generosity of people is mind-blowing. It's been incredible.
"We had an anonymous donation of £10,000 as well.
"It feels like we're never going to get the extra £150,000, but we'll get there."
Demolition work for the scheme will begin next month.
The new building will be one-and-a-half storeys high, and will include space for residents to use as a community garden.
Church members also hope to put on a range of activities at the site.
Barry added: "Hopefully we'll be open seven days a week.
"We had the tree surgeons in to remove some trees and help clear the site before the diggers come in the middle of April."
The entire project is expected to take around two years to complete.
Barry added: "A lot of it we're going to be doing ourselves.
"We've got a couple of builders and tradesmen so we're going to be doing most of it, but we'll get specialist teams in for certain jobs.
"We're hoping to get it wind and water-tight by the end of the year."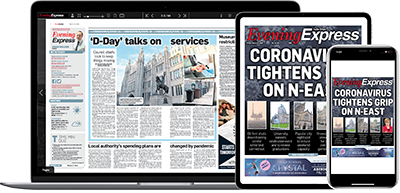 Help support quality local journalism … become a digital subscriber to the Evening Express
For as little as £5.99 a month you can access all of our content, including Premium articles.
Subscribe