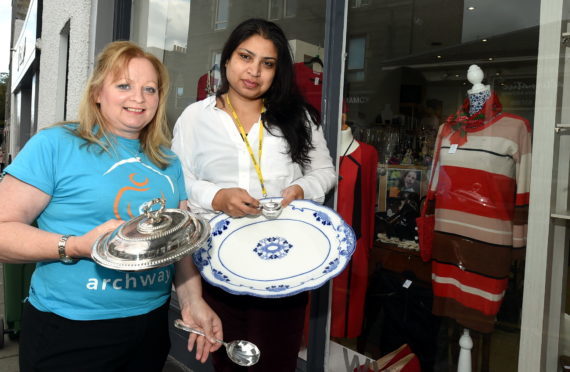 An Aberdeen charity is celebrating after sales at an auction topped £12,000.
Archway put almost 100 pieces from its charity shop under the hammer at the weekend, with valuations estimated to have reached as much as £10,000.
The charity smashed that figure, despite the two highest valued items on offer, worth a minimum of £2,000 each, not being sold.
All the cash will be put towards the charity's new appeal to help create Archway @ St Margaret's Place.
It is thought the plan to refurbish a bungalow in Aberdeen, fitting it out to be able to offer 24-hour care to adults with learning difficulties, will cost the charity £100,000.
The new service will allow for permanent supported living of up to four people at a time.
Each resident will have their own personal care plan, with the aim of helping them live more independent lives.
A 17th-Century painting which depicts an Italian man praying and an 18th Century interpretation of Dutch fishing boats struggling during a storm remain with the charity, which is hoping to be able to sell them at a later date.
Despite the higher valued paintings not selling, Archway still managed to beat its target, helped along by one painting vastly surpassing its estimate.
Holy Isle, by Sam Bough, was originally valued at between £80 and £120 by Ian Taylor of Taylor's Auctioneers in Montrose, before selling for around £2,000.
Fundraising manager Janine Davies said: "We had estimated that it would sell for around £120, but that ended up going for £2,000, so that really made up the difference.
"I think the experts there considered it to be a good piece and they paid accordingly."
---
---
Emma Watson, the general manager of Archway, said the team was "excited" at the extra cash raised.
She said: "When you're trying to raise such a large amount of money, it's a significant boost towards it and it's a great start to our appeal.
"We've purchased a bungalow property and we're going to renovate it for four people to live in, doing things like making it wheelchair-accessible.
"They'll live there 24 hours a day with support from staff.
"It'll be their home and we're hoping that they will be able to live more independently.
"For some of the people we care for, they are still living with their parents, so it's the natural next step for them to move out and live on their own.
Ms Davies added: "We have to raise £100,000 as fast as we can to allow for these adults to get into 24-hour housing with care.
"So this is fantastic, it's a really big boost for us to have for the project."
Emma hopes the project at St Margaret's Place will be up and running by the spring.
The charity already supports around 400 people.