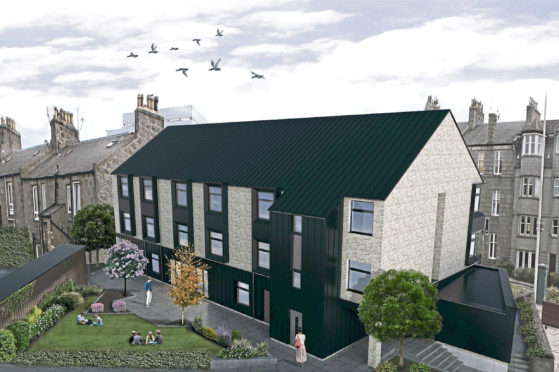 A social care charity today launched a £3.2 million campaign to build a state-of-the-art mental wellbeing centre in the heart of Aberdeen.
Voluntary Service Aberdeen (VSA) is calling on the generosity of the north-east to help back its plans to build the 20-bed facility which will assist people living with a range of mental health conditions.
The VSA Changing Lives campaign, which is being backed by the Evening Express, has already raised £2.1 million.
It has also garnered the support of Scotland manager Alex McLeish, who has joined the campaign board, BP, Standard Life Aberdeen, Apache, The Robertson Trust and the A G Bain Trust.
The facility will expand upon the charity's existing outreach support service.
VSA, which celebrates its 150th anniversary next year, has been a part of the city's fabric since 1870.
Kenneth Simpson, VSA's chief executive, said: "This marks a historic day in VSA's 149-year history and reaffirms our commitment to the people of the north-east.
"There is a growing demand for mental wellbeing support with one in three people in Scotland diagnosed with a mental health condition each year.
"The new purpose-built facility, situated in the heart of Aberdeen, will support adults with a range of mental health illnesses on their journey to recovery.
"Together with the help of the people of Aberdeen and the tremendous support we've received to date, we can make this facility a reality and change the lives of the people who need our support for the better."
---
---
The new facility, which the charity would like to build on the corner of Abergeldie Road and Holburn Street, will feature 20 en-suite bedrooms with a small kitchen area and lounge, a residential lounge, dining room, two relaxation rooms, a fully fitted kitchen, laundry room, office space and a garden area.
The space was formerly the site of an NHS clinic and was demolished some years previously.
Dons legend Mr McLeish said he was "privileged" to help.
He said: "I am delighted to be involved, once again, with VSA. I have tremendous memories of my association.
"Sir Alex Ferguson gave me the green light to be an ambassador for Linn Moor School in helping raise funds.
"I feel so privileged to be able to help VSA's latest campaign which will help so many people in such a caring and special environment."
Evening Express editor Craig Walker said: "Our newspaper proudly partnered with VSA back in the 1870s when the charity launched its first-ever fundraising campaign, and our support has continued in the decades, and centuries, that followed.
"We are delighted to be helping VSA once again in such a worthy, important cause."
Tim Smith, vice president of communications and external affairs for BP North Sea, said: "BP is delighted to pledge our support to help raise funds for this fantastic project.
"This facility will make a material difference in changing lives for the better."
VSA was established on March 10 1870 as Aberdeen Association for Improving the Condition of the Poor.
Queen Victoria accepted an invitation to become patron, and the reigning monarch has since held this position.
In 1890 the office was transferred from McCombie's Court to 18 Adelphi, then to 38 Castle Street in 1899. It was not until 1979 that the name Voluntary Service Aberdeen was adopted as the new operational title.
The "Parish Council Offices" were purchased for £1,600.
Martin Gilbert, vice chairman of Standard Life Aberdeen, said he is "thrilled" to be supporting the charity. He added: "I'm very proud that Standard Life Aberdeen is partnering with VSA. Social care is critical, and the work VSA does for mental health in Aberdeen is hugely important."