An Aberdeen care worker has been struck off after failing to notice an elderly resident spending all night outside – then lying about it.
Staff at Archway Respite Care and Housing on Westburn Road, Aberdeen, opened the curtains on June 15 last year to discover the resident sitting on a bench in the front garden in her pyjamas.
CCTV showed the woman had been there since 1.30am – but night care officer Karen Stewart failed to see her leave.
Stewart, who had worked at the home for about 15 years, had written in her notes the resident was "out and in to her room every five minutes most of the night" – but that was not true.
Stewart was sacked and the matter referred to the Scottish Social Services Council (SSSC), which held a three-day hearing in Dundee ending on March 13.
A new SSSC report states that when Stewart's colleagues asked why she did not hear the alarm fitted to the resident's room, she claimed to have hearing problems.
The report said: "Your colleague advised that you had a history of not hearing the doorbell when it was rung at the unit.
"You said you had gone to the hospital and there was nothing they could do about your hearing."
It added: "The home's operations manager viewed your behaviour as very serious.
"You placed a very vulnerable resident at risk. You compounded this by being dishonest throughout the investigation.
"You made up false information and notes."
---
---
Having considered the evidence, the SSSC fitness to practise panel concluded: "You should have checked on residents frequently.
"If the resident had come out of her room, you should have checked to ensure she went back into her room.
"Despite being provided with evidence that the resident had been seen on CCTV footage in the middle of the night, you continued to assert your case note was accurate during the investigatory meeting.
"In short, you continued your dishonest conduct.
"Your colleague believes you realised you made a mistake when you learned the resident had managed to leave the unit and then you panicked, which is why you were dishonest."
Stewart had no previous record of trouble during her employment and had admitted dishonesty to the SSSC.
The panel removed her from the register, meaning she can no longer work as a care worker.
An Archway spokeswoman said: "We are aware of SSSC proceedings relating to a former employee.
"We can confirm this person has not been employed by Archway since June and we cannot comment on matters relating to former staff members."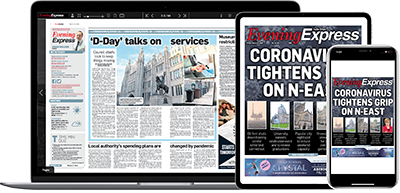 Help support quality local journalism … become a digital subscriber to the Evening Express
For as little as £5.99 a month you can access all of our content, including Premium articles.
Subscribe