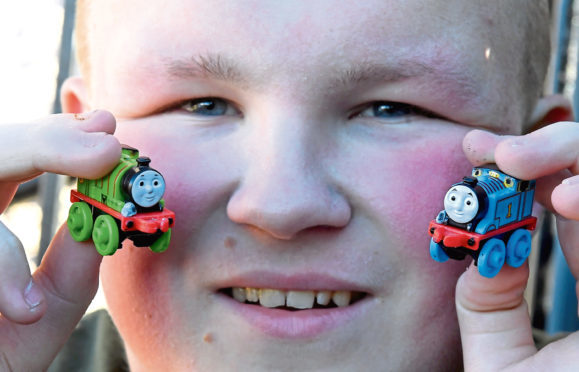 Liam McIntyre is most probably the biggest Thomas The Tank Engine fan of all time.
Indeed, there is nothing the Bridge of Don lad does not know about the cheeky little blue train – from his first ever appearance in the the Railway Series books, written by the Reverend Wilbert Awdry in 1946, through to every single episode of the past 22 series from the TV spin-off show, Thomas & Friends.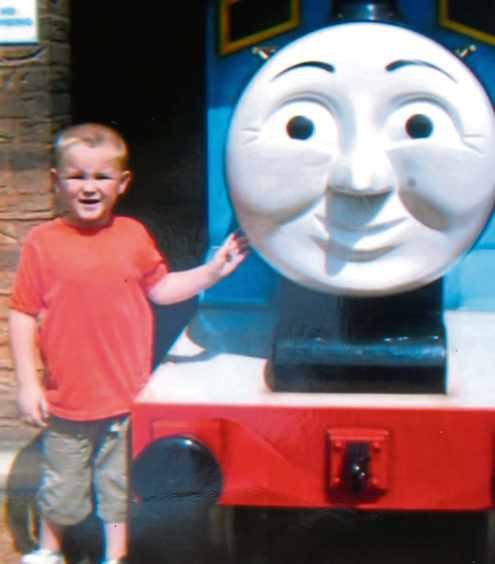 Liam's proud grandmother Margaret McKenzie, 70, said: "From his high chair, Liam would be enthralled with the programme. It was and still is the only children's TV show he watches.
"He has watched each episode in each series time and time again and knows each character off by heart.
"I've always believed if there was a national children's competition about Thomas The Tank Engine, Liam would win, hands down."
By the age of three, Liam had already been to visit Thomas Land at Drayton Manor Theme Park in Tamworth, although he has no memory of being there.
Diagnosed with severe autism at age five, Liam, who attends Bucksburn Academy, has had to endure many challenges in life.
But in the past two years, the 13-year-old has taken his interest in the cheeky locomotive to a whole new level and he spends all his free time intricately hand-painting and building model trains. Although Margaret has lost count of just how many trains Liam has made since then, she believes it to be somewhere in the region of 500.
There is one thing she is certain of – the little train with the grey smiling face has been the driving force for bringing Liam out of his shell.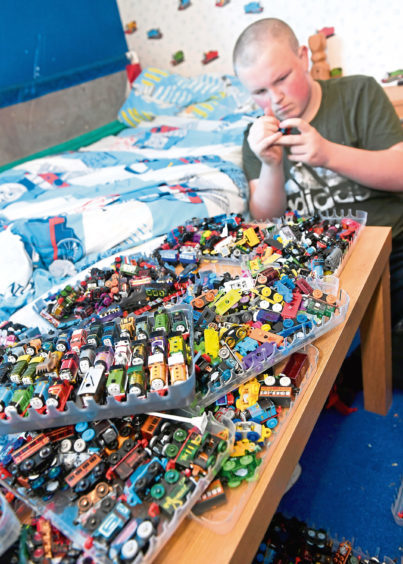 So much so that Liam has extended his love for Thomas to other children through storytelling.
"Liam attends a weekly group for children with additional needs," said Margaret.
"He has taken to reading the Thomas books to the younger children in the group and they just love listening to him because he goes into the character of each of the trains.
"I know autistic children tend to fixate on things, but I only see his interest in Thomas as a very positive thing.
"To see him go from being such a quiet and withdrawn boy into one who is gaining such confidence through his reading – well, I just think it is wonderful." Liam's passion for building his own bespoke train collection came to life after he realised the makers of Thomas toys hadn't quite thought of everything!
"I noticed Oliver, Donald and Douglas were not in the mini range so I decided to make my own ones," said Liam.
"I really like making trains and I also enjoy making up my own stories, but I don't read them to anyone, I just keep them to myself.
"I don't have my trains on a track because I don't have room in my bedroom, so I keep them in my baskets and on a table instead."
Liam's imagination knows no bounds.

He has also created his very own train, Andrew the happy brown steam train from Wales.
And it's no wonder Liam is a big hit with the youngsters among the group – the Welsh accent of Andrew he shares with me, he had right down to a tee.
So just what is it that makes Thomas The Tank Engine so special?
"He's special because when he first came to the Island of Sodor he was green and had the number 70 painted in white on his side trunk," revealed Liam.
"I like him because even though he is a bit cheeky and likes to play tricks on the bigger engines, he is really helpful and kind."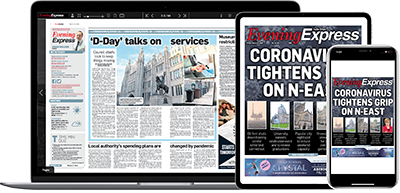 Help support quality local journalism … become a digital subscriber to the Evening Express
For as little as £5.99 a month you can access all of our content, including Premium articles.
Subscribe