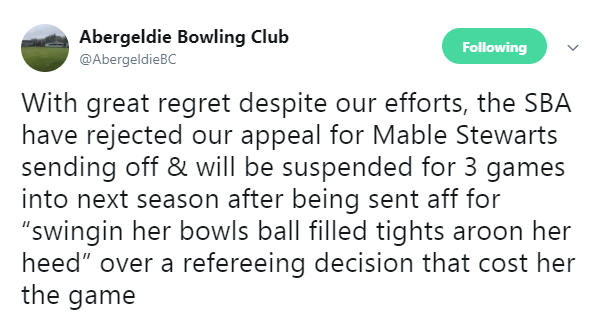 An Aberdeen lawn bowling club hasn't seen the funny side of a fake Twitter account taking the mickey out of the group.
The Abergeldie Bowling Club Twitter page has gathered more than 1,100 followers since it was created last Wednesday.
But it has also drawn the ire of the real club over its tongue-in-cheek taunting of rivals and the use of language more at home on football terraces than a bowling green.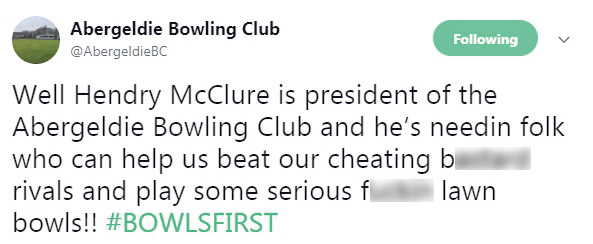 The fake account paints a vivid picture of a clubhouse rife with boozing, fighting and green-side sexual encounters.
A spokesman for the real club branded the page "disgusting" and said they had contacted police.
He said: "That's 100% not the Abergeldie Bowling Club.
"We're predominantly the 60-plus age demographic. I'm the only one that's in the club that's of an age that would use social media.
"This is something that we will get removed and more than likely contact 101 about.
"It's something that we would not encourage in the slightest.
"We're a professional bowling club and we would not show ourselves in that light.
"I think it's quite disgusting."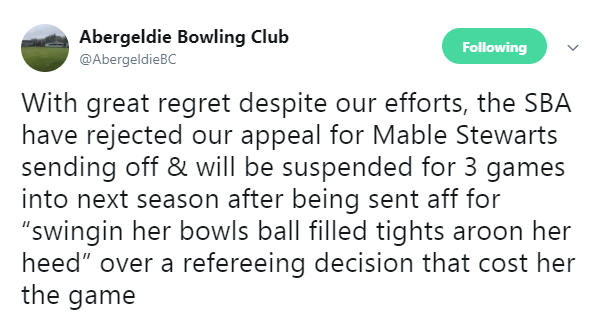 Most of the tweets are unprintable due to the bad language, but one includes lyrics to an amended UK national anthem, "God Save Our Gracious Green, Long Live The Geldie Green".

A poll asking followers to vote on the "most important thing" saw "lawn bowls" gather 88% of the votes, beating second placed "oxygen" with 6% and "food" with 5%.
The page referred to some of its followers as "AbergeLEGENDS".
The account is run by four men, aged 22 to 24, who got the idea while at a flat party across the road.
One of the men, who did not want to be named, said: "We were joking about what goes on at the club and, just to make ourselves laugh, we made a Twitter page.
"We never expected it to do this well. All of a sudden we've got this massive cult following.
"It's been a bit mental.
"We're all enjoying ourselves with it. We're trying to make people laugh, we don't want to upset anyone. If the actual club are displeased we'll try to make it up to them."
Asked whether he has ever tried bowls himself, he said: "It is something I'm looking to do in the near future – if I'm not banned from the Abergeldie Bowling Club."