Video: Aberdeen musician's 40 Shades of Grey song inspired by her own visible roots during lockdown
An Aberdeen-born musician has used lockdown to create a funny ode to ladies resorting to their natural hair colour.
Moyra Fraser is married to famous folk musician Mick Foster of Foster and Allen fame and currently resides in Mullingar in Ireland.
She is originally from Aberdeen and has crafted a song called 40 Shades of Grey to describe what will happen to some ladies' hair during isolation as they cannot visit a hairdresser.
Moyra was inspired to write the song by looking in the mirror at her own grey locks.
She said: "After a few days in self isolation, I began seeing posts on social media about all the local shops and businesses that were being closed down for the foreseeable future including my local hairdresser, Joli Salon in Mullingar, County Westmeath.
"A quick study in the mirror and I immediately regretted not going there the week before for my usual treatments.
"Then, I realised that if this Covid-19 is going to continue for any length of time I'd have to let the grey hair take over and let nature take its course. This did not bother me but I was regretting not seeing the lassies that worked there for a gossip and the craic.
"The song immediately popped into my head and what better tune to put my parody to tha Forty Shades of Green.
Originally from Spital in Aberdeen, Moyra attended Sunnybank School and Linksfield Academy before going onto play music in various bands including the Jack Sinclair Band and appearing on Grampian TV for their Hogmanay Ceilidhs.
She worked in an office before going onto pursue a career in the music full-time and has a music teaching diploma.
Moyra has used the power of social media to reconnect with her old primary school music teacher Jim Addison, who is playing his keyboard for frontline workers in his front garden.
She said: "I was extremely lucky to have three fantastic music educators at my schools: Eileen Pike (Petrie) who I went on to work with in the Jack Sinclair Band, Hamish Cramb in Linksfield Academy and Jim Addison who really made me see what I could do if I put in the work and it was because of Jim that I really wanted to teach and pass on what little skills I had to others.
"I had been trying for a long time to find Mr Addison but to no avail.
"But then I saw him last week on social media playing a beautiful tribute to NHS workers on his keyboard.
"I immediately contacted his daughter and Jim and I chatted via text but he very graciously gave me his contact details so the minute this virus is over, I'm looking forward to catching up in person to thank him for his encouragement and his wonderful teaching skills that made me want to play music and teach."
The Feelgood Feed: Stories to lift your day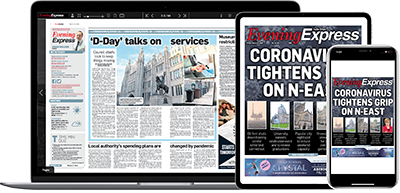 Help support quality local journalism … become a digital subscriber to the Evening Express
For as little as £5.99 a month you can access all of our content, including Premium articles.
Subscribe