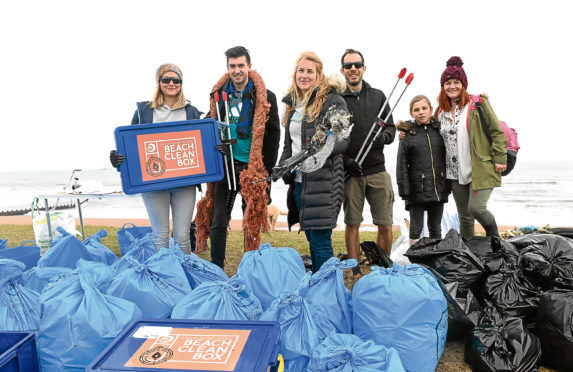 The plastic problem in our seas was brought starkly into focus during an Aberdeen beach clean at the weekend.
Surfers Against Sewage (SAS) organised the clean-up at Aberdeen Beach and of the 100 bags of rubbish that were collected 60 were solely plastic.
Around 100 volunteers turned out for the sands spring spruce up.
Jenny Smith, a North-east regional representative for SAS, said: "This year's clean was a little different.
"We separated the plastic and took a look at our total plastic impact to see what's hitting our seashores.
"We asked volunteers to use blue bags for the plastic and regular black bin liners for the rest.
"And what we found was, out of 100 bags of rubbish, 60 bags were filled with plastic – recyclable and non-recyclable.
"The most frequent things I came across were fishing lines, fishing nets and ropes that have nylon in them.
"A lot of people didn't know that these ropes had nylon in them. I remember when I was growing up, the amount of rubbish was never like this and I don't know if people know how bad it's getting."
The clean-up ran for two hours on Saturday and saw members of the public aged from four to 85 taking part.
Jenny, an environmental consultant, said everyone had their part to play in keeping our shores clean.
She added: "My favourite part of these beach clean ups is seeing the kids get involved.
"Families turn up and seeing them taking part makes me feel awesome.
"The people of Aberdeen have shown great participation in the past.
"I remember the last clean up we did, in Torry Battery Park. I was walking my dog on a Wednesday and saw the mess it was in after the storm.
"I put out an appeal for people to join and on the Sunday I saw 60 people turn up to volunteer.
"It just shows that this is our beach to take care of and everyone has to do their part to make sure it stays clean."
The next beach clean will be at St Cyrus National Nature Reserve on Saturday from 3pm until 5pm.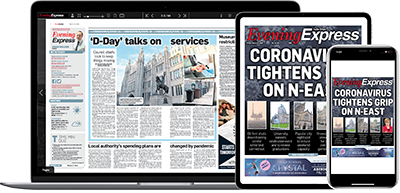 Help support quality local journalism … become a digital subscriber to the Evening Express
For as little as £5.99 a month you can access all of our content, including Premium articles.
Subscribe