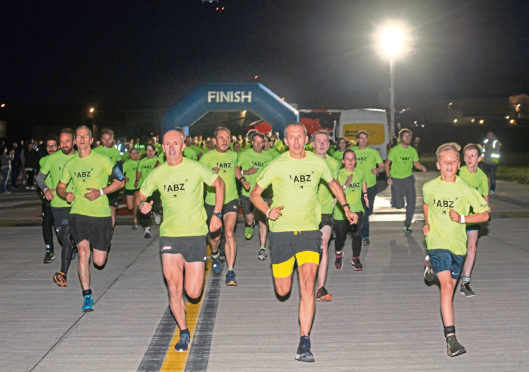 Aberdeen airport is to host a fundraiser for two good causes.
The Aberdeen Runway Run, organised by Aberdeen International Airport and CHC Helicopter, is returning after a successful event last year.
The run, which sees participants cover the length of the runway, starts at midnight and is in aid of Befriend a Child and Veterans with Dogs.
It will take place from June 22 into June 23.
Four hundred runners will take on the 3.5km challenge.
---
---
Aberdeen International Airport managing director Steve Szalay said: "We'd encourage runners of all abilities to apply for a space in the most exclusive running event in the region."
CHC Helicopter regional director Mark Abbey said: "We're delighted to be able to support the Runway Run."
Tickets will cost £25, and are available from Monday at 6pm.
Each runner will have a target sponsorship of £100.
For more information, visit aberdeenrunwayrun.co.uk