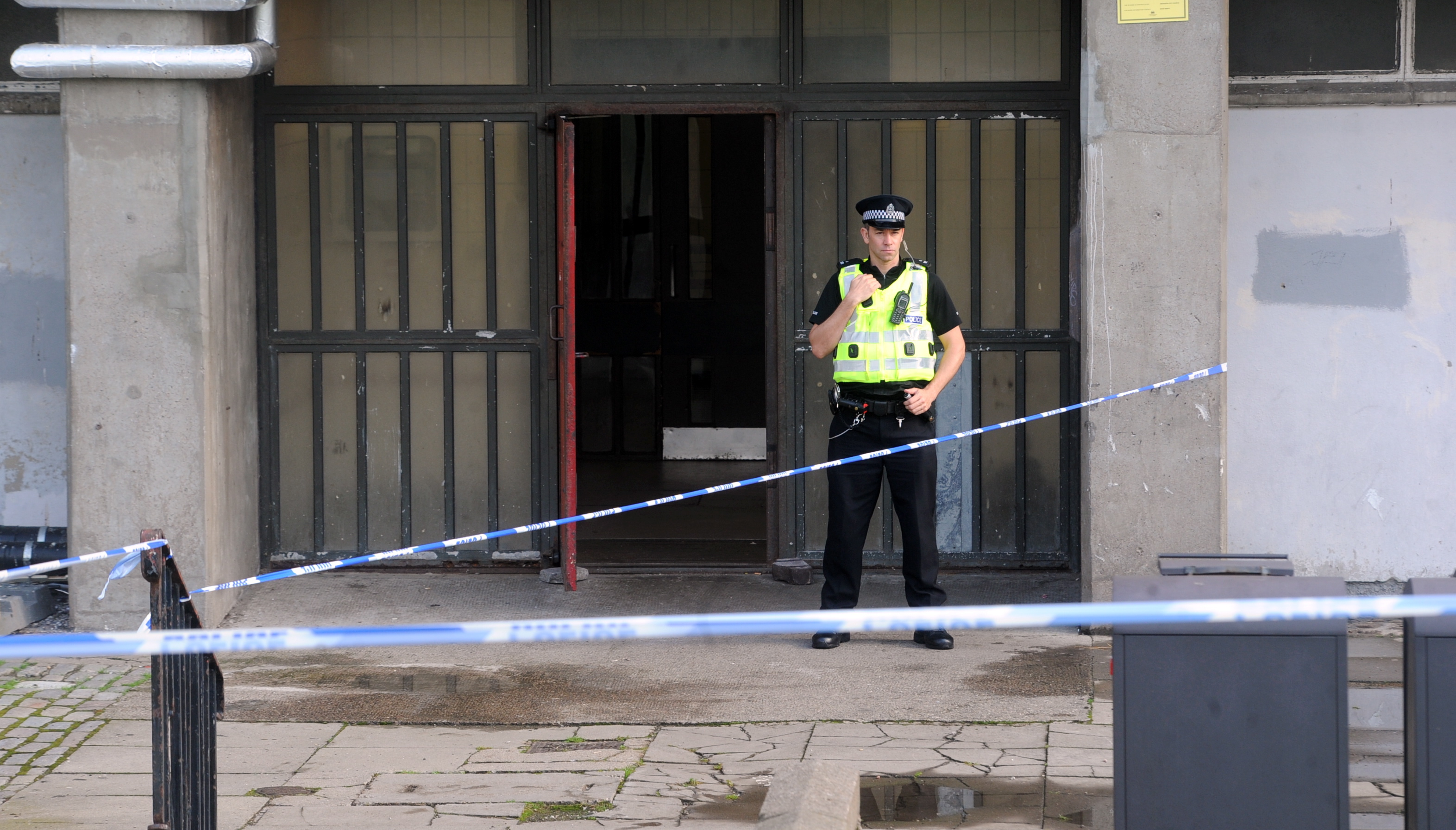 Residents around an Aberdeen tower block have told of their shock after three people died in an incident police are treating as a double murder.
Police rushed to the scene at Donside Court at 8.15pm on Tuesday after a member of the public called emergency services following a commotion in a 12th-floor residence.
An investigation is under way after the suspected double murder of a man and a woman, named locally as Keith Taylor and Tracy Gabriel.
The third deceased man, named locally as Hugh Gallacher, is believed to have jumped from the balcony.
Councillor Ross Grant said he had spent time at the scene and had been speaking to residents.
He described the incident as a "deeply shocking turn of events".
He said: "There's a lot of upset people in the block.
"It's really a numbness, a real sense of numbing shock. It's not something anyone, anywhere would expect to wake up to on any day."
He went on to say he conveys his condolences to the loved ones of those involved in the incident.
Cllr Grant added: "It's just a really shocking time, it's something that has affected residents across the area.
"It's a pretty dark day for our community.
"Tillydrone is very close knit, everyone knows everyone, there's so many positive community regeneration actions run by residents and the council.
"It will make it all the more shocking for residents because the area is so close knit and because we are all working hard to make the area better for everyone to enjoy."
Tillydrone resident Barry Caie, 40, who lives in a building opposite the scene, said the whole community was in shock.
He said: "I was playing music when I saw heaps of people outside.
"People couldn't believe what had happened. This area is really quiet, you don't expect anything like this to happen.
"I feel sorry for the kids who were out playing who saw the body."
Jenny Mackay, 54, who lives in the same building, said: "I came home at about quarter to 11pm and saw heaps of people outside.
"I didn't have a clue why. It came as a huge shock to me when I found out, as well as many in the area who stayed out most of the night."
Meanwhile, area councillor Jim Noble said: "It's a very, very sad event.
"It's sad for the people living in the block because of the nature of the event.
"Some people who unfortunately witnessed the event may need help, I'm sure the council or police will offer help."
Aberdeen Central MSP Kevin Stewart said the double murder would hit the close-knit local community hard.
He said: "Obviously it's a tragedy and it will be a real shock for the folk of Tillydrone.
"I hope that all the services that are required in terms of counselling and anything else is put in place by the council to meet people's needs in that regard.
"There will be folks who are very shocked that something like this has happened in their neighbourhood."