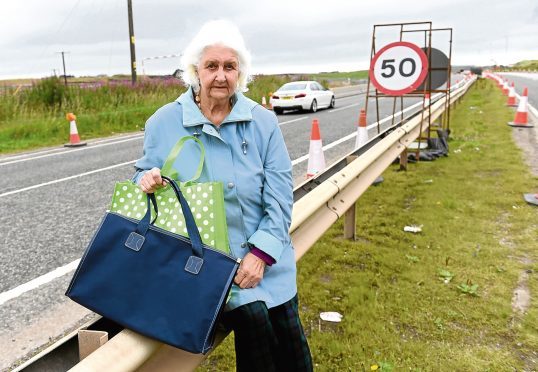 A pensioner was left stranded on the central reservation of the A90 after bypass workers blocked off a bus stop.
Edna Booth was travelling from Aberdeen to Blackdog on a Stagecoach bus when the driver was forced to go into the southbound lane due to a contraflow system for AWPR works.
The 84-year-old normally gets off opposite Hareburn Terrace but that stop was blocked due to the works.
The driver was forced to drop Edna off on the central reservation with her shopping, forcing her to cross two lanes of traffic to get home.
Edna said: "There was no bus stop provisions for dropping off passengers. I was dropped off way down the southbound lane of the A90 on the central reservation.
"I didn't know where to turn. I had two bags of shopping and had to start walking along the central reservation.
"As an 84-year-old pensioner carrying two bags of shopping and trapped on the central reservation by traffic moving north and south on one lane I felt very vulnerable and in a very dangerous situation.
"I was only able to cross because a motorist saw me and stopped the traffic to let me safely cross to the Blackdog side of the road."
A Stagecoach spokeswoman said the firm was notified that works taking place on Saturday would require the closure of some stops in the northbound lane, but the plans were altered without its knowledge.
She added: "Safety of our customers is our priority and we will be raising this matter with the AWPR team to ensure that communication of necessary changes is improved.
"We would like to thank our drivers for doing the best they could to maintain a safe operation during the unscheduled bus stop closure."
A Transport Scotland spokesman said discussions were under way with the contractor to ensure the proper process is implemented in the future.
He added: "Transport Scotland has discussed this with the contractor and reminded them of their responsibilities to consult with both the local authority and bus companies if bus stops are to be temporarily closed or moved as a result of their works."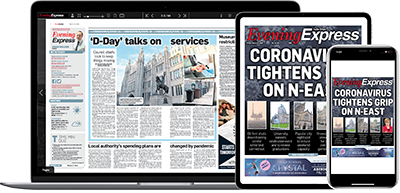 Help support quality local journalism … become a digital subscriber to the Evening Express
For as little as £5.99 a month you can access all of our content, including Premium articles.
Subscribe