Police in Aberdeen have seized 70 vehicles in a crackdown on motorbike thefts and on people riding them illegally or dangerously in the north-east.
As part of Operation Armour 60 people were charged between May 10 and August 31.
The seized vehicles include 66 motorbikes and 4 cars.
The operation, which was previously known as Operation Trinity, is now in its tenth year.
And this year's operation saw the number of calls related to stolen bikes and people causing a nuisance drop by 65% from the start project.
Inspector Jon Millar, of the Mastrick community policing team, said: "This year is the tenth year that the operation has taken place and looked to address concerns raised by local communities across the city about the anti-social use of motorbikes and the negative behaviour associated with it.
"From the start of the operation to the end this year we have seen a 65% reduction in calls made to police in relation to these type of incidents.
"As you would expect, the more bikes we seize, the less incidents there are to report, so removing bikes, as well as charging offenders, does have a big impact on the issue.
"We know that antisocial motorbike crime, if not tackled, can lead to incidents of dangerous driving which endangers the public.
---
---
"Those who would flout the law by driving carelessly or dangerously without a licence, MOT or insurance present a danger to the wider public and the message to those individuals is clear.
"If you engage in this activity, the local community will continue to report you and we will take action to report offenders to the court and take steps to seize the motorbike involved.
"During this year's operation we had a dedicated team of officers supported by partner agencies who were looking to prevent incidents through regular patrols and by thoroughly investigating related crime.
"These officers frequently appealed to the public seeking information about motorbike crime and received a positive response.
"We also used the services of the Police Scotland Youth Volunteers (PSYV) who were able to carry out leaflet drops in hot spot areas and City Wardens undertook patrols in these areas as part of our preventative strategy.
"The operation included comprehensive prevention and diversion strategies and saw 28 people referred to the Aberdeen Motorcycle Project for Educational Development (AMPED).
"The AMPED programme looks to divert people away from offending behaviour and onto more positive outcomes.
"We would like to take this opportunity to thank the public for their response to our appeals for information which has resulted in officers being able to take such positive action."
Divisional Commander Chief Superintendent Campbell Thomson added: "This operation is a great example of police and partners working with the public to tackle ongoing issues in local communities.
"I very much commend the work of all of those involved and extend my sincere thanks to them."
Inspector Millar added: "Although the operation has officially finished, local community officers will still investigate any reported incidents of antisocial motorbike use and I would urge the public to call Police Scotland on 101."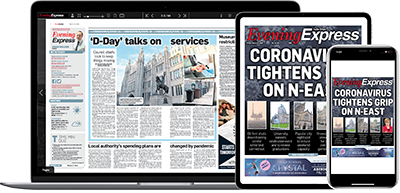 Help support quality local journalism … become a digital subscriber to the Evening Express
For as little as £5.99 a month you can access all of our content, including Premium articles.
Subscribe