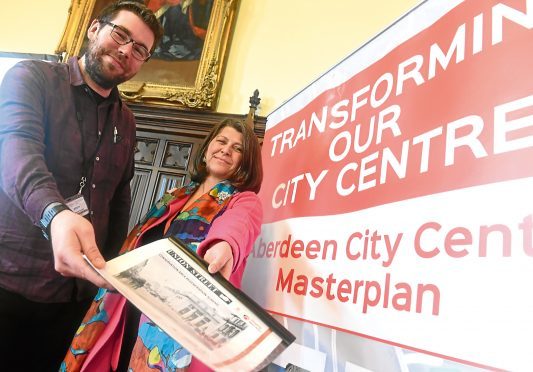 Aberdeen has a "golden opportunity" to learn from the success of regeneration schemes in other parts of Scotland, with £2.4 million available to enhance Union Street's most important buildings.
The five-year Conservation Area Regeneration Scheme (CARS) will provide funding to help make Aberdeen's famous Granite Mile sparkle.
The scheme will give grants to building owners of up to 60% of the repair cost and up to 75% for Union Street shopfront improvements.
Historic Environment Scotland (HES) put forward £1,177,104m, which was match-funded by the city council. A further £50,000 has come from Aberdeen Inspired.
Previous locations to benefit from similar CARS schemes include Portsoy in Aberdeenshire and Falkirk.
Cllr Marie Boulton, the council's lead on the city centre, said: "The success of Conservation Area Regeneration Schemes in other parts of Scotland shows what can be achieved when people and organisations work together. With grant funding of £2.4m available, we have a golden opportunity to do the same in Aberdeen by conserving and enhancing Union Street's most important historic buildings.
"This is a five-year programme but already we've had people asking about making an application and we expect that interest to grow.
"Regenerating our main thoroughfare is a key strand of the City Centre Masterplan – and that requires us to see the bigger picture.
"While there are direct benefits for building owners in receipt of grants, the more significant prize is restoring Union Street's majesty for future generations.
"In addition there is the very real likelihood of leveraging further investment through putting renovated buildings to new uses, including residential."
In Portsoy, three historic buildings in the A-listed harbour area were transformed using combined CARS grants of more than £600,000, with several key historic buildings brought back into use.
The Sail Loft, a long-time derelict former sailmaking factory, has been restored as five-star rated bothy accommodation and received a CARS grant of £360,200 of a combined total project cost of £1.8m.
The Boatshed has also been restored and is used as a traditional boatbuilding centre running courses for schoolchildren and the public.
It received a grant of £96,489 towards a total project cost of £436,068.
Meanwhile, the Grain Store has undergone a massive transformation, in part due to a £135,000 CARS grant that covered around a third of the project costs.
The building will now be used as workshop space for its owners who run a marble business, with two more workshop spaces available for rent.
Historic Environment Scotland said the key reason the CARS project in Portsoy has been successful is the level of community-led regeneration which has "not been experienced" on similar Aberdeenshire schemes.
Two buildings at the harbour have been removed from the buildings at risk register and HES said the restoration carried out should keep the harbour in use and in good condition for many years to come.
Work was also done by the Portsoy Scout Group to extensively restore the former railway station at Soy Park, which is used as a Scout Hall but was in a state of advanced disrepair.
HES said this keeps the Scouts in their own hall and also gives them the ability to generate income by renting out the hall for events and to other community groups, including for live music and knitting.
Meanwhile, a CARS project in Falkirk resulted in an investment of more than £5.7m towards the regeneration of the town.
This included £1.6m of HES funding, £1.9m of Heritage Lottery Fund cash and £1.2m from the local authority, with the rest made up largely of owner contributions.
The main priority project has been to restore the iconic Falkirk Steeple, which was completed in April 2017.
There have also been a number of successful shopfront and building repair programmes carried out using the funds.
The project is currently still ongoing with a full report on the scheme expected when it ends in 2018.
Grants to help restore and enhance historic properties are being offered to owners through the Union Street scheme.
Anyone interested in applying to the scheme should phone project officer Jamie McNamara on 01224 523958 or 07919 691540, or e-mail jmcnamara@aberdeencity.gov.uk.
"Golden chance to boost Silver City", Page 24