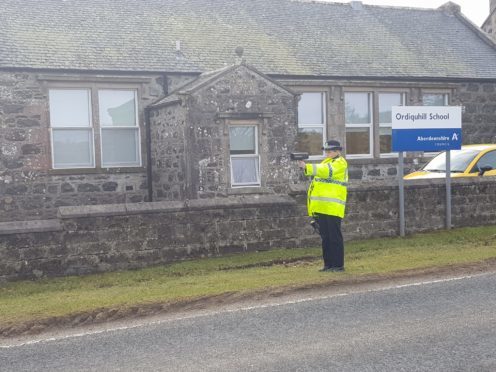 Fourteen drivers were caught speeding during a police crackdown on antisocial driving in the North-east.
Officers also caught one driver not wearing a seatbelt and issued four tickets with tickets for parking offences.
Police detected the offences during two days of action in Banff, Macduff and Portsoy, which ended yesterday.
Seven of those caught speeding were charged and will be reported to the Procurator Fiscal.
Speed checks were also carried out in the vicinity of Ordiquhill Primary School and in Cornhill.
PC Demi Beattie, who led the operation, said: "In both locations no drivers were identified driving in a manner to merit being stopped which was good to see.
"I hope the pupils at Ordiquhill Primary were also entertained watching us too.
"We also visited Portsoy Primary school to speak about local issues, in particular parking related concerns when the primary school empties at 3pm.
"There are a great number of cars in the area of Chapel Street all at once which can cause problems like turning – we will liaise with the local authority to identify a way of addressing this moving forward."
The action was part of Operation CEDAR, a division-wide initiative to make our communities safer by tackling dangerous and poor driving.
PC Beattie added: "Tackling dangerous driving is always a priority for the local Community Policing Team, however targeted and visible operations like this can be crucial in sending out a strong message that such behaviour will not be tolerated."