The ski season in the North-east is off to its best start in years, according to a centre boss.
Freezing temperatures have been good news for North-east winter sport centres which are looking to bounce back from a disappointing winter last year.
David Farquharson, managing director of the Glenshee Ski Centre, said a thin coverage of snow over the weekend had been enough to ensure a good couple of days skiing.
He said: "It's been very busy.
"Compared to last year it's great, because we had a poor season last year.
"It would have been great if we got the whole Christmas period but we really just got the last four days.
"But it's a far better start this season compared to last year.
"It's probably the best start for a couple of years."
On Saturday the ski centre had 800 visitors, but yesterday saw 2,000 skiers come to take advantage of the wintry conditions.
The slopes have been busy with adults and youngsters alike making use of the seasonal time off from work and school.
David added: "Certainly a lot of it will be folk that are on holiday just now."
With 2,000 visitors yesterday, the Glenshee Ski Centre has already been busier than on its best day of last year, which saw only 1,500 people take to the slopes.
Also looking to resume normal service after a slow winter last year was the Lecht 2090 resort.
The facility saw more than 3,000 visitors use the slopes over the course of the weekend.
Peter Du Pon, managing director of the centre, said things were returning to normal.
He said: "It's been a good weekend.
"Blue sky, sunshine and lots of snow, so perfect.
"It's just the beginning of the winter but it's a lot better than last year.
"So this is back to a normal winter, the way they should be."
February is usually the peak of the season for ski centres, but Peter was optimistic for a good year early on.
He said: "There's a long way to go but it's a very good start.
"Last year was a disaster.
"We had 1,800 people in here yesterday, a lot of children all having a good time.
"Saturday was slightly less, around 1,500."​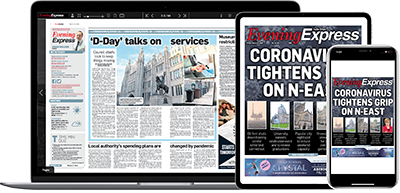 Help support quality local journalism … become a digital subscriber to the Evening Express
For as little as £5.99 a month you can access all of our content, including Premium articles.
Subscribe