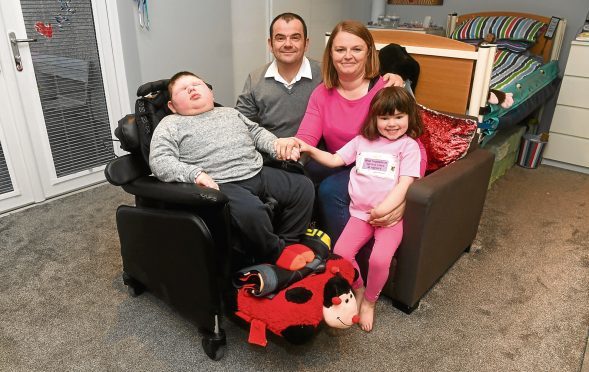 Six-year-old Rory Jamieson has severe cerebral palsy, Addison's Disease (a rare disorder of the adrenal glands), diabetes insipidus (a rare condition where the body produces a large amount of urine and causes thirst) and dystonia – a condition that causes muscle spasms and contractions.
This means Rory requires 24/7 care and needs the support of a fully assisted wheelchair.
Today Rory's mum Joanne, 41, has written about the anxiety and fear she struggles with on a day-to-day basis due to the accessibility challenges, as well as the support she has been given by the charity Charlie House, which helps ease these difficulties
---
How do you describe yourself when you have a disabled, medically-dependent child with a life-shortening condition and numerous ailments that make life so difficult?
Are you a special needs mum? A mum with a special needs child? Or are you simply a mum with a child?
This is an important distinction for me, as first and foremost I am mum with a child, but the daily challenges we face as a family definitely put me in the special needs mum category.
I have special needs due to my complicated and tiring daily routine.
Not because I have to care for my son, look after him and provide for all his needs, but because of the obstacles placed in my way by different – probably oblivious – people that make life just that bit harder.
I don't want pity or assistance – I do and will continue to cope with our situation – I only ask for a level of awareness that stops additional obstacles that are placed in our way.
There are so many difficulties when having to use and guide a wheelchair. Society tries so hard to help and, on the whole, does a great job, but small details are overlooked.
I spend a lot of my time avoiding situations that could become difficult.
A family day out may sound fun, but when I think of the logistics I panic and foresee all the problems that could occur.
This may restrict the lives we lead and the experiences Rory, and probably Mollie – our three-year-old daughter – have, but sometimes the anxiety, disappointment and feeling of being a burden on society are not worth the hassle.
We know we can't do simple things like nip into the shop for a loaf of bread or to the post office to send a parcel, without some difficulties.
I often feel I should do more with Rory and then a situation like the following comes up and I remember why I let myself feel that way …
After the nursery drop-off with Mollie and heading home to unload Rory again, then calling our GP about him being poorly, it was decided Rory would need a prescription.
I have to say at this point how lucky we are to have Insch Medical Practice as our local support – they definitely come under the category of those who make life much easier for us.
I arrived at the chemist around 1.50pm as I know it takes a good few minutes to unload Rory and this lets me be there for opening time.
I pulled up in the disabled space across from the chemist, opened the van, unloaded the ramp and got Rory out in his wheelchair.
I was then faced with a car parked on double-yellow lines, blocking the lowered pavement to allow me to get Rory up off the road.
Now, this meant I had to bump Rory up on to the pavement, which was not really that big a deal – but you can imagine the weight a supported wheelchair has to be, to be safe enough to carry a 33kg child with no control. So the bump took quite a lot of effort from me and meant a lot of discomfort for Rory.
I made my way into the shop where I assumed the culprit was and sure enough found a lady stacking shelves with her products.
I politely pointed out that she had not only abandoned her car on double-yellow lines, but had also blocked the lowered pavement, which meant I was unable to get my son up.
She was very apologetic and explained she was only going to be five minutes.
Now, to be frank, she had already taken more than five minutes because it takes me longer than that to unload Rory and, although she immediately went out and moved her car, it was still there some time later so she was never going to be five minutes.
I then made my way across to the chemist. When I came out of the chemist and made my way back to the car I found not only had another car replaced the car of the lady who had parked on double-yellow lines, but the vehicle was parked right behind my van.
The van has a large sign saying "Please leave 3m behind van to allow ramp to be lowered". Not only did I have to wait in the drizzling rain with my son, who was poorly, but I couldn't even get him up on to pavement because the lowered section was blocked.
When the young lad returned I – probably less politely than previously – pointed out that not only had he parked on double yellows and blocked the lowered pavement, but he was too close to my van.
His reply was "calm down, I was only going in for a bottle of juice".
Another example of difficulties we face is at Royal Aberdeen Children's Hospital.
Rory, unfortunately, is a regular visitor, whether for routine appointments or his numerous hospital stays.
To most people, it would seem to have the perfect provision; a number of disabled parking spaces as close to the front door as you can get, a ramp to the front door and automatic doors.
These are great and I don't want to sound ungrateful, but this doesn't mean it's easy to get in.
The car park is on a slope, so once I get Rory out the car, along with the large suitcase and medication bag that must come with him, I need to push his chair, bags and him up the sloping car park to the pavement.
Once on the pavement, it continues on a slope right up to the sloping ramp, which is another climbing journey to the front door.
I am just one of many, many people facing daily challenges like these.
I am not looking for sympathy, I am simply trying to explain that if, now and again, you may think someone is overreacting when they get upset because you took two minutes nipping into a shop, it is probably a series of such issues that made your actions seem insensitive.
I don't want to be the neurotic woman who moans every time she sees a parking violation, nor to be given special treatment, I just want people to understand the importance of not blocking disabled spaces, lowered pavements and leaving enough room behind a wheelchair-accessible vehicle.
There is more than just the five-minute wait behind everyone's story, there is a day, week, month and lifetime of complications and difficulties.
I don't like to rant and certainly don't think I am entitled to anything other than common courtesy from people lucky enough to be able to pop in to a shop for five minutes.
There are great examples of places where parking is accessible, but there are other issues to consider, like a suitable changing place to change Rory's nappy.
Union Square is perfect and provides everything we need.
We can park easily, manoeuvre Rory around, access shops, restaurants, the cinema and they have an adapted changing place with hoisting that means we can change Rory with ease.
I don't know if sharing this experience will have any effect, but if someone thinks twice about doing this and makes life easier for the thousands of people who experience this daily, then it will have been worth it.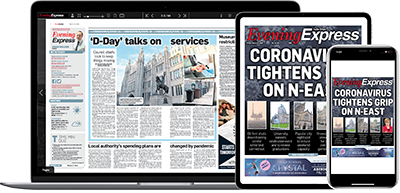 Help support quality local journalism … become a digital subscriber to the Evening Express
For as little as £5.99 a month you can access all of our content, including Premium articles.
Subscribe